Apple Watch Series 4 Hands-On: Larger Displays, New Finishes, Slightly Thinner, ECG, and More
Following the introduction of Apple Watch Series 4 models at Steve Jobs Theater today, MacRumors and other media outlets were provided with some up-and-close hands-on time with the new lineup.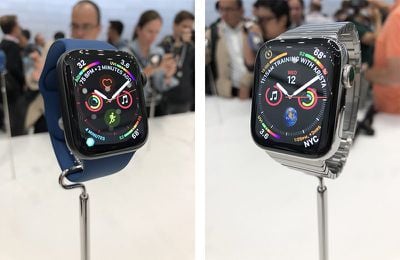 At first glance, the most obvious difference with Series 4 models is their larger displays, as Apple has significantly reduced the size of the bezels around the screen. The bezels now look similar to those on the iPhone X and newer, although the display is not completely edge to edge.
Apple says the larger displays provide 32 percent and 35 percent more viewing area on the new 40mm and 44mm models respectively, compared to the previous 38mm and 42mm models in previous generations.


Taking advantage of the larger displays, Apple has redesigned the entire watchOS interface to provide more information with richer detail. A new Infograph watch face can accommodate up to eight complications.
Series 4 models are also ever slightly thinner than Series 3 models, measuring in at 10.7mm, compared to 11.4mm. Apple didn't allow me to test my Series 3 band with a Series 4 model, but it did confirm that both new and existing bands are compatible with all Apple Watch generations.


Apple Watch Series 4 has a new electrical heart sensor on the back side for electrocardiography, often shortened to ECG or EKG. This potentially life-saving functionality can indicate whether your heart rhythm shows signs of atrial fibrillation, a serious form of irregular heart rhythm.
Series 4 introduces some finishes, including gold stainless steel casing and a gold Milanese Loop. The back side on all the new models is now crafted from sapphire crystal and ceramic, whereas some Series 3 models had composite backs.


On the side of Series 4 models, the Digital Crown features a thin circle, which is black on GPS configurations and red on LTE configurations. By comparison, nearly the entire Digital Crown is red on Series 3 models with LTE. In my opinion, the new, subdued look of the crown is more aesthetically pleasing.





Overall, the Series 4 models do not represent a full-out redesign of the Apple Watch, but the larger displays and improved health monitoring tools are much welcomed features that are worth considering upgrading for.