Hands-On With Samsung's New Galaxy Note 9 and Galaxy Watch
Samsung today hosted an event in New York where it unveiled its newest product updates, including the Galaxy Note 9, the Galaxy Watch, and the Galaxy Home speaker.
MacRumors attended Samsung's event and was able to get some hands-on time with Samsung's new line of flagship devices, which is worth checking out because Samsung's main product lineup is quite similar to Apple's with the introduction of the new Galaxy Home device.
Samsung's Galaxy Note 9 device comes just a few weeks ahead of when Apple plans to unveil its 2018 iPhones, and it gives us a look at the feature set Samsung is hoping will lure customers away from new Apple devices.
Unlike other Android smartphones, Samsung continues to eschew the notch, and the Galaxy Note 9 looks quite similar to the Galaxy Note 8 with small top and bottom bezels, an aluminum frame, a built-in iris scanner for biometric authentication, and a fingerprint scanner at the rear.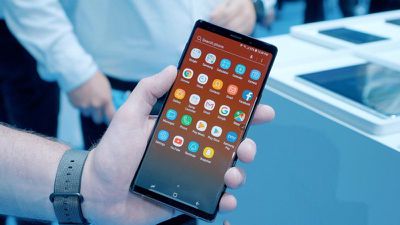 Samsung has tweaked the location of the fingerprint scanner, putting it underneath the rear camera instead of next to it, which often led to people touching the camera element in the previous device. Speaking of the camera, Samsung is using the same dual-camera dual-aperture setup as last year, with the addition of a new Intelligent Camera feature that optimizes camera settings for whatever you're taking a picture of.


The Galaxy Note 9 features a 6.4-inch AMOLED screen, a smidge bigger than the 6.3-inch screen in the previous device, and also smaller than the rumored 6.5-inch display Apple's "iPhone X Plus" device is expected to offer.
Inside, the Galaxy Note 9 uses a Snapdragon 845 processor and what Samsung describes as a watercooling system for superior game performance, and it comes equipped with an updated S Pen, a factor that has always set the Note line apart from the iPhone, as Apple's devices do not support its one and only stylus, the Apple Pencil.


The S Pen has been upgraded with Bluetooth, so it can be used as a remote for things like playing and pausing movies, playing slideshows, and taking selfies. An S Pen SDK is coming later this year that will allow developers to integrate S Pen functionality into their apps. Dock-free DeX support is included in the Galaxy Note 9, allowing it to be connected to an external display.


To compete with the HomePod and the Apple Watch, Samsung unveiled the Galaxy Home and the Galaxy Watch. Access to the Galaxy Home was limited and we couldn't get a good look at it, but it features a spaceship-like design with a U-shaped body that curves inward and three metal feet.
Samsung, like Apple, hyped the audio quality of the Galaxy Home on stage and demonstrated its integration with Bixby, Samsung's digital assistant and Siri competitor.
As for the Galaxy Watch, it features a circular display with a traditional watch-style face that also maintains the rotating bezel for control purposes. Like the Apple Watch Series 3, the Galaxy Watch features LTE so it is not reliant on an accompanying smartphone.


It has a battery that lasts several days, and like the Apple Watch, it offers a breathing guide, heart rate monitoring, support for 39 types of workouts, and automatic workout detection, a feature Apple is bringing to the Apple Watch in watchOS 5. Samsung is pairing the Galaxy Watch with a wireless charger that can charge a smartphone and the watch at the same time, which sounds a lot like Apple's still-missing AirPower device.


At its event, Samsung was also showing off the Galaxy Tab S4, its new iPad Pro competitor that was introduced last week. The 10.5-inch Galaxy Tab S4, which has a 16:10 AMOLED display, features DeX support, a Book Cover Keyboard, and an S Pen, along with a Snapdragon 835 processor, 4GB RAM, and a 7,300 mAh battery for 16 hours of battery life.


With today's announcements, Samsung's full fall 2018 product lineup is now available, and these are the devices that will directly compete with the products that Apple is expected to launch across the remaining months of 2018.
We're expecting three new iPhones, including a 5.8-inch OLED device that's a followup to the iPhone X, a 6.5-inch OLED iPhone that can be thought of as an "iPhone X Plus," and a lower-cost 6.1-inch iPhone with an LCD display. All three devices are expected to ditch the Home button and Touch ID in favor of Face ID enabled through a TrueDepth camera system.
Apple is also planning to launch new Apple Watch Series 4 models, which are said to have bigger displays, better batteries, and improved heart rate monitoring technology, plus there are revamped iPad Pro models in the works with slim bezels, no Home button, and Face ID support.
What do you think of Samsung's new product lineup, and how does it measure up to what Apple is rumored to be to putting out this fall? Let us know in the comments.