Samsung Launches New Galaxy Tab S4 to Compete With iPad Pro
Samsung today announced the launch of its latest tablet, the Galaxy Tab S4, which, like Apple's iPad Pro, has been designed as a computer replacement with productivity in mind.
The new 10.5-inch Galaxy Tab S4 is described as the "ultimate entertainment and multitasking assistant" thanks to the inclusion of Samsung DeX, which is the first time Samsung has built the feature into a tablet.
DeX is a docking solution that is designed to allow Samsung smartphone owners (and now tablet owners) to connect their devices to a keyboard, mouse, and monitor through a USB-C port, an HDMI port, and two USB ports. DeX on the Galaxy Tab S4 works using a simple HDMI adapter or with the DeX dock options and it offers true multitasking capabilities with users able to open multiple windows at one time.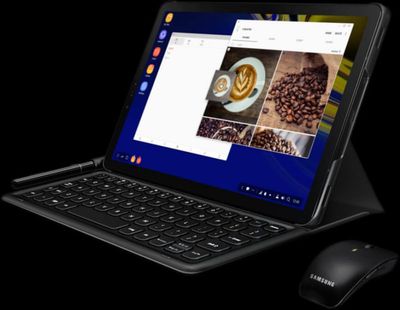 Samsung is offering a $150 Book Cover Keyboard alongside the Galaxy Tab S4, which can be paired with DeX to transform the tablet into a PC alongside a Bluetooth mouse, but it will also work with any Bluetooth keyboard and mouse option.


Like other Samsung devices, the Galaxy Tab S4 can also be paired with the included S Pen, a stylus for taking notes, drawings, artwork, and other purposes.
Apple's iPad Pro lineup, comparatively, includes an optional Smart Keyboard and Apple Pencil, along with the ability to pair third-party Bluetooth keyboards, but it does not support mouse functionality.
When it comes to hardware, the Galaxy Tab S4 is equipped with Qualcomm's octa-core Snapdragon 835 processor, 4GB RAM, 64GB to 256GB of storage space that can be expanded with a microSD card, and a 7,300mAh battery that it boasts offers 16 hours of video playback, outpacing the iPad Pro's 10 hour battery.


The tablet includes a 16:10 AMOLED display, and there is no Home button or fingerprint sensor on the device, with Samsung instead relying on facial recognition and iris scanning for biometric authentication.
Other features include quad speakers much like the iPad Pro, Bixby integration, 13-megapixel front and rear cameras, and a fast charging feature that charges the battery to full in 200 minutes.
Samsung's new tablet is priced at $650 for 64GB of storage or $750 for 256GB of storage, which is on par with Apple's pricing for the 10.5-inch iPad Pro. Apple charges $649 for the 64GB 10.5-inch iPad Pro, $799 for a 256GB version, and $999 for a 512GB version.


Samsung is releasing the new Galaxy Tab S4 on August 10, which is just after the company plans to unveil its new flagship Galaxy Note 9 device.
Apple also has a major tablet upgrade in the works with new iPad Pro models on the horizon, but it is not clear when the company will unveil them. The new tablets could come in September alongside new iPhones or Apple could wait until later in the fall, perhaps hosting a separate October event for new iPads and Macs.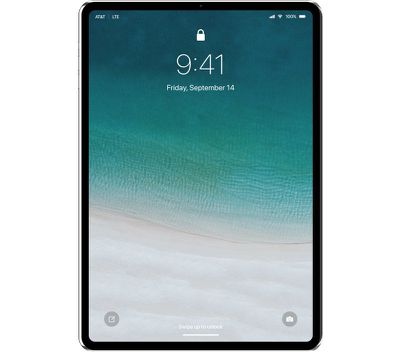 Apple's updated iPad Pro models are expected to offer a complete iPhone X-style redesign, doing away with the Home button, introducing slimmer bezels for more available screen space, and adopting Face ID and the TrueDepth camera system for biometric authentication.