Gurman: Apple Considered Removing Lightning Connector on iPhone X
As a side note in his report about technical challenges facing the AirPower, expected to be released by September, well-connected reporter Mark Gurman also noted that Apple considered removing wired charging from the iPhone X.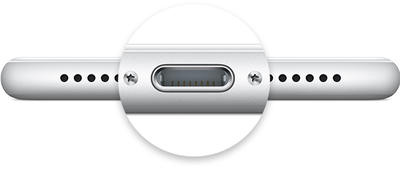 From his Bloomberg News story:
During the development of the iPhone X, Apple weighed removing the wired charging system entirely. That wasn't feasible at the time because wireless charging was still slower than traditional methods. Including a wireless charger with new iPhones would also significantly raise the price of the phones.
Just to be absolutely clear, Gurman confirmed to me that this would have included removing the Lightning connector from the device. In fact, his report notes that Apple designers eventually hope to "remove most of the external ports and buttons on the iPhone," although this is likely multiple years away.
A few years ago, it was reported that Apple's design chief Jony Ive's end goal is for the iPhone to resemble a "single sheet of glass," while Apple has repeatedly expressed its ambitions to "create a wireless future," so the eventual removal of the Lightning connector should perhaps come as no surprise.
Apple is already well on its way towards that wireless future, with products and technologies ranging from AirPods and AirPower to its W1 and W2 wireless chips. Apple also made the controversial decision to remove the headphone jack from iPhone 7 models a few years ago, pushing users towards wireless earphones.
Still, removing the Lightning connector would certainly be another controversial decision, given it is not only used for wired charging, but also for audio and data transfer, such as syncing an iPhone with iTunes on a Mac or PC.
Removing the Lightning connector would also prevent an iPhone from directly connecting to a wide range of peripherals, including many adapters, docks, battery cases, power banks, keyboards, game controllers, audio cables, wired headphones, and other accessories authorized under Apple's MFi Program.
In many cases, however, wireless alternatives would be available. It's possible to sync an iPhone with iTunes over Wi-Fi, for example, while wired headphone users can go wireless, Bluetooth-enabled game controllers are available, and upright-positioned wireless chargers can double as a docking station.
There is even wireless CarPlay, although it is currently only available in a few vehicle models and aftermarket systems.
Of course, there would be some friction with this transition, just like when Apple switched from its 30-pin dock connector to Lightning in 2012, and removed the headphone jack on the iPhone 7. In both of those cases, however, the controversy eventually died down as many users came to accept the new reality.
It's also worth noting that Apple considers a lot of different ideas internally that might never materialize in a public-facing product.
At this point, it appears like the Lightning connector on iPhones should live on for at least a few years. Rumors suggest Apple will bundle a faster 18W charger with a USB-C port with iPhones released in 2018, which would connect to the devices with a Lightning to USB-C cable included in the box.