iPhone 7 Hands-On: Improved Cameras, New Jet Black Color, AirPods, No Headphone Jack, and More
Immediately following its media event today in San Francisco, Apple invited members of the press to a special hands-on area to get a closer look at the iPhone 7 and iPhone 7 Plus. The first real-life photos and videos of the smartphones are now beginning to surface around the web, showcasing the improved cameras, new black colors, no headphone jack, and more.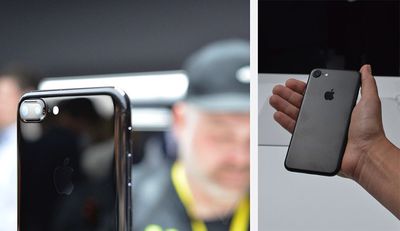 The Verge shared pictures of the iPhone 7 in both the new Black and Jet Black colors, providing a glimpse of the new matte and glossy finishes in action. The two new colors complement the existing options of Gold, Silver, and Rose Gold. Jet Black in particular will be limited to 128GB and 256GB models of the iPhone 7 and iPhone 7 Plus, while the other four colors will be available for all storage capacities.
In the article, the website described the iPhone 7's capacitive home button as "awful," adding that "it doesn't feel like a button at all."
Another thing I tried: the new home button, which uses a "taptic engine" to give you physical feedback when you press it — it's pressure sensitive too, so it can tell if you really mean to press it or just tap it. And it's awful. On a MacBook trackpad, you get this uncanny feeling that you're actually hitting a button. On the iPhone, the whole bottom of the phone just sort of "kicks." It's not bad haptics like you remember, with weird vibration, it's just a new kind of bad haptics. It doesn't feel like a button at all. It's a bummer.
CNET prepared a quick hands-on video with the iPhone 7 Plus in Rose Gold, showing off its dual cameras, no headphone jack, stereo speakers, repositioned antenna bands, and capacitive, force-sensitive home button.
SlashGear
, meanwhile,
provided a hands-on look
at Apple's new wireless
AirPods
with charging case and Lightning to 3.5mm headphone jack adapter. AirPods will be available for $159 in late October, while the Lightning to 3.5mm headphone jack adapter is included in the box with iPhone 7 and iPhone 7 Plus. The adapter is
$9 as a standalone purchase
on Apple's online store and retail locations.


More hands-on videos and first impressions should follow in the coming hours and days.