Kuo Again Predicts No 3D Touch for 2018 6.1-Inch LCD iPhone
Apple's upcoming 6.1-inch LCD iPhone may not feature 3D Touch due to cost constraints, according to a new note shared yesterday by KGI Securities analyst Ming-Chi Kuo and published by Chinese site Feng.
Kuo says that the 6.1-inch iPhone will use what he calls "Cover Glass Sensor" (CGS) technology, relocating the iPhone's touch module from the display panel (in-cell technology) to the surface glass. The CGS method reportedly results in a display that's lighter and more shock resistant.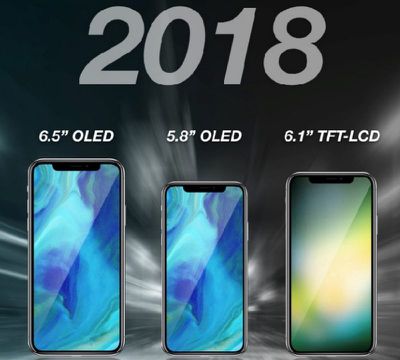 With this display technology, Apple will add a thin-film sensor to the touch film sensor included in the CGS, but the purpose of the new layer is unknown. It will, however, result in a 15 percent increase in the cost of the touch panel, resulting in a higher purchase price of $23 to $26.
To offset the cost of the new display it plans to use, Kuo believes Apple will remove the 3D Touch functionality on the 6.1-inch iPhone, which would be a curious move as 3D Touch is well-integrated throughout the operating system that runs on the iPhone at this point.
The other two iPhone models Apple is expected to release in 2018, the 5.8-inch OLED iPhone X successor and the 6.5-inch OLED device that can be thought of as an "iPhone X Plus," will continue to offer 3D Touch functionality.
Because Apple plans to incorporate the CGS display technology into future iPhones, including OLED models starting in 2019, 3D Touch could potentially be removed from all future iPhones.
It's not clear what the mystery thin-film sensor mentioned in Kuo's note will do, but it could be some kind of 3D Touch replacement system. Apple is said to be planning to release iPhones with touchless gesture controls in the next few years, and this could be the first step towards that goal. A gesture-based system is around two years away, however, so it the film could be some other new input method to replace 3D Touch.
Kuo believes the 6.1-inch iPhone will make up 65 to 75 percent of iPhone shipments during the year, given its lower price point and its feature parity with the two OLED devices Apple plans to introduce.
While the 6.1-inch iPhone will not feature OLED technology, it is said to have an edge-to-edge screen design and support for Face ID, like the OLED phones in the 2018 iPhone lineup.