Amazon's Alexa personal assistant, built into dozens of different products, today gained a new "Follow-Up Mode" that's designed to allow users to ask multiple questions in succession without the need to repeat the "Alexa" wake up word.
As noted by CNET, Follow-Up Mode allows Alexa to continue to listen for five seconds after an initial response to see if you have an additional request.
During this five second listening period, the blue ring on an Alexa device will light up to indicate that Alexa is listening. Anything else you say during this time period will not require you to add "Alexa" into the statement to wake up the Alexa device. If you don't say anything else, your Alexa device will go back to sleep until the next time the "Alexa" wake word is uttered.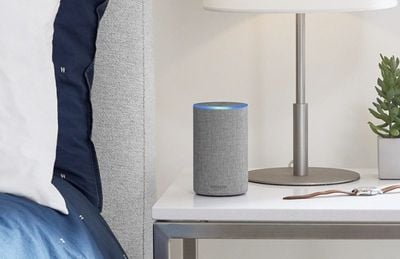 With Follow-Up Mode, Alexa cannot respond to multiple requests, like "Turn the lights on and set the thermostat to 70," but you can ask two requests in succession. Asking "Alexa, turn on the lights" and then stating "Set the thermostat to 70" after the first "OK" from Alexa works, however.
According to Amazon, Follow-Up Mode is designed to make sure Alexa only responds if a legitimate request is spoken rather than simple background noise. A conversation with Alexa can also be ended immediately by saying "Thank you" or "Stop" after an initial request, and Follow-Up Mode won't activate when listening to music, making a call, or listening to an audiobook.
The new Follow-Up Mode can be enabled in the Settings section of the Amazon Alexa app. Select a device and then scroll down to the new "Follow-Up Mode" toggle. Follow-Up Mode is available for all Amazon Echo devices and some third-party devices as well, but it is limited to US English at the current time.
The Alexa Follow-Up Mode, which seems like a useful new addition to Alexa, has no equivalent on Apple's devices like the HomePod at the current time. On Apple's speaker, you will need to activate it with a "Hey Siri" command before each request.
The addition of this new feature comes just a few days after Amazon implemented a fix for an issue that was causing Alexa-enabled devices to spontaneously laugh, creeping out some Alexa users. Amazon said the issue was caused by Alexa mistakenly hearing the phrase "Alexa, laugh," which has now been changed to "Alexa, can you laugh?" to prevent accidental Alexa activations.