Apple's mobile news platform has been accused of "living in the past" by the co-founder and head of rival news curation service Flipboard. The comments were made at Tuesday's Code Media event in California, where Flipboard CEO Mike McCue participated in an onstage Q&A regarding the future of content curation in the digital mobile space.
Now in its eighth year, the Flipboard iOS app organizes online articles into a more conducive reading format for mobile devices, and reaches around 100 million users a month. Comparatively, major rival Apple News – which Apple began shipping with iOS 9 – has at least 70 million monthly users.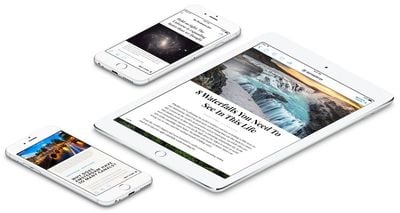 "When you're an entrepreneur and you're competing with Apple, that's a pretty big deal," said McCue. "They're a partner and a competitor at the same time." McCue then went on to criticize Apple's mobile news platform for its lack of human curation.

"Apple News as a product is living in the past. There's no social sharing capability, no curation happening — it's algorithmic," McCue said, adding: "It's another format that publishers have to adopt."
McCue also picked holes in Apple's walled garden approach to online content, comparing Flipboard's ad-friendly platform to Apple News's "closed ecosystem", which McCue called "a big deal for publishers". The suggestion here is that Flipboard benefits publishers by regularly redirecting readers to the publisher's site, where more ads are shown, whereas Apple News keeps users within the app's native display format with its attendant ad restrictions.
Despite the latter approach, Apple News does offer a built-in advertising platform that allows publishers to earn 100 percent of the revenue from the content they publish, or 70 percent of revenue from iAds inventory sold by Apple. The Apple News Format also lets publishers create custom editorial layouts geared towards their individual brands, allowing content to be viewed by millions of iPhone and iPad users in the way the publishers intended.