Apple Now Selling Refurbished Apple Watch Series 3 Models
Apple today updated its online store for refurbished products in the United States to add a selection of Apple Watch Series 3 models, marking the first time Apple's newest wrist-worn device has been available from the refurbished store since its September 2017 release.
As of the writing of this article, there are two refurbished Apple Watch Series 3 GPS-only models available at a $50 discount, which equates to 13 to 15 percent off of the regular price. No LTE models or models with stainless steel or ceramic cases are available at this time.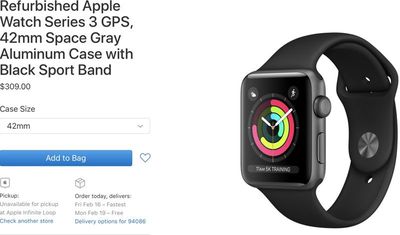 A 38mm Gold Aluminum Apple Watch Series 3 with Pink Sand Sport Band is available for $279, down from $329, and Apple also has a 42mm Space Gray Aluminum model with Black Sport Band available for $309, down from $359.
The Apple Watch Series 3, first introduced last September alongside new iPhones, is the first Apple Watch model to offer an option for LTE connectivity. Compared to earlier Apple Watch versions, the Series 3 also comes equipped with a faster dual-core S3 processor and an Apple-designed W2 chip for 85 percent faster Wi-Fi
Apple Watch Series 3 refurbished stock is limited at this time, but Apple refreshes available units on a regular basis, so it's worth keeping an eye on the refurbished store if you're looking for a discount on a particular model.
All of Apple's refurbished products go through a rigorous refurbishment process before being offered for sale, which includes inspection, repairs, cleaning, and repackaging. Refurbished Apple Watch models come with a one-year warranty that can be extended with an AppleCare+ purchase.
For tips on purchasing a refurbished product, make sure to check out our guide.