Apple Will Repair HomePod Power Cables For $29, But Warns They 'Should Not Be Removed'
While a Reddit user recently demonstrated that the HomePod's power cable can technically be disconnected from the speaker by pulling on it with a lot of force, Apple warns that it should not be removed, according to an internal document distributed to Apple Stores and Apple Authorized Service Providers.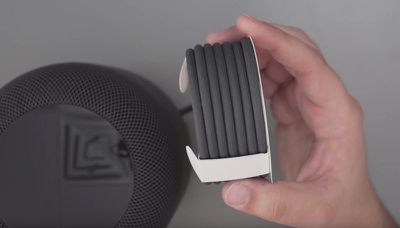 Apple's internal HomePod Service Readiness Guide, obtained by MacRumors, states that detaching the HomePod's power cable could potentially cause damage to the speaker's internal components or to the cable itself:
The HomePod includes a built-in power cable that should not be removed.

In the rare instance that the cable is detached or damaged, do not attempt to remove or plug it back into HomePod. If the cable is removed or impaired, damage could have occurred to the cable or the internal components of HomePod.
If the power cable is damaged due to an unintentional reason, such as a dog chewing on it, Apple notes the HomePod can be mailed to one of its repair centers and fixed for a flat-rate out-of-warranty fee of $29 plus tax in the United States, £25 including VAT in the UK, and $39 including GST in Australia.
Out-of-warranty essentially means that the flat-rate cable repair fee is available to any customer at any time. The affected HomePod does not need to be within Apple's limited one-year warranty period, nor is AppleCare+ required.
The only requirement is that the HomePod passes Apple's visual-mechanical inspection, which checks for other external or internal damage. If the HomePod does not pass, but is still eligible for repair, then the only option is a whole-speaker replacement for $279 in the United States, £268 in the UK, and $399 in Australia.
The whole-replacement fee is also applicable to mostly any other kind of damage, unless a customer purchases AppleCare+ for HomePod.
AppleCare+ extends a HomePod's hardware coverage to two years from its original purchase date, and adds up to two incidents of accidental damage coverage, each subject to a service fee of $39 in the United States, £29 in the United Kingdom, and $55 in Australia, plus the upfront cost of the plan.
If your HomePod requires service, the process can be initiated by contacting Apple Support, booking a Genius Bar appointment at an Apple Store, or visiting an Apple Authorized Service Provider.