Apple Shares Research into Self-Driving Car Software That Improves Obstacle Detection
Apple computer scientists working on autonomous vehicle technology have posted a research paper online describing how self-driving cars can spot cyclists and pedestrians using fewer sensors (via Reuters).
The paper by Yin Zhou and Oncel Tuzel was submitted to the moderated scientific pre-print repository arXiv on November 17, in what appears to be Apple's first publicly disclosed research on autonomous vehicle technology.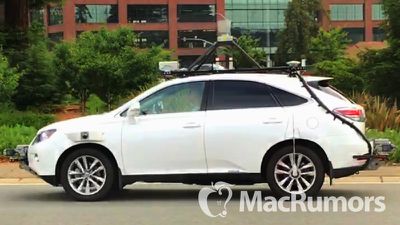 The paper is titled "End-to-End Learning for Point Cloud Based 3D Object Detection", and describes how new software developed by Apple scientists improves the ability of LiDAR (Light Detection and Ranging) systems to recognize objects including pedestrians and cyclists from a distance.
Self-driving cars typically use a combination of standard cameras and depth-sensing LiDAR units to receive information about the world around them.
Apple's research team said they were able to get "highly encouraging results" using LiDAR data alone to spot cyclists and pedestrians, and wrote that they were also able to beat other approaches for detecting 3D objects that rely solely on LiDAR tech. The experiments were limited to computer simulations and did not advance to road tests.
Apple famously has a secretive research policy and has kept its work under wraps for many years, but over the last 12 months, the company has shared some of its research advancements with other researchers and the wider public, particularly in the area of machine learning.
In December 2016, Apple said that it would start allowing its AI and machine learning researchers to publish and share their work in papers, with the first paper appearing just a few weeks following the announcement.
Additionally, in July of this year, Apple researchers initiated the "Apple Machine Learning Journal", a blog detailing their work on machine learning, AI, and other related topics.
This new policy of openness could help Apple retain employees who do not want to keep their progress a secret, but the latest research into autonomous vehicle technology also lets regulators see that the company is making progress in this area. Last December, Apple told federal regulators it was excited about the technology and asked them not to restrict testing. In April, the company also filed a self-driving car testing plan with California regulators.
Apple CEO Tim Cook has called autonomy "the mother of all AI projects". During an August 2017 earnings call, Cook re-emphasized Apple's deep interest in the technology, and even hinted Apple's work on autonomy could be used for more than vehicles.
Apple has presumably been working on an autonomous driving system since 2014, when rumors of its efforts to create an electric vehicle first surfaced. Apple has now moved away from creating a full vehicle and is said to be focusing on self-driving technology instead.