Tim Cook Says Apple is 'Very Focused on Autonomous Systems'
It's no secret that Apple is working on an autonomous driving system, thanks to statements from Apple CEO Tim Cook, information published by the DMV, and the presence of Apple's autonomous test vehicles on the road, but during today's earnings call, Cook re-emphasized Apple's deep interest in the technology, and he even hinted Apple's work on autonomy could be used for more than vehicles.
"In terms of autonomous systems, what we've said is that we are very focused on autonomous systems from a core technology point of view," Cook said. "We do have a large project going, and we're making a big investment in this from our point of view."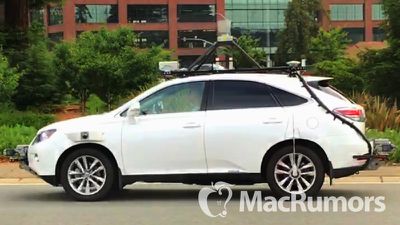 Cook went on to call autonomy "the mother of all AI projects," a statement he's shared before in an interview with Bloomberg. Cook also hinted that Apple has other autonomous projects in the works beyond a car system.
"Autonomous systems can be used in a variety of ways -- a vehicle is only one, but there are many different areas of it. And I don't want to go any further with that," he said.
Apple has presumably been working on an autonomous driving system since 2014, when rumors of its efforts to create an electric vehicle first surfaced. Apple has now moved away from creating a full vehicle and is said to be focusing on self-driving technology instead.
Since April, Apple has been testing its autonomous driving system in several Lexus RX450h SUVs, which can be spotted on the roads around its Cupertino headquarters.