Apple's AI Team Working on LiDAR, Smaller Neural Networks, Image Processing and More
At an exclusive invitation-only lunch at an AI conference in Barcelona, Spain that took place on December 6, Apple head of machine learning Russ Salakhutdinov and other Apple employees talked about their work on artificial intelligence.
Quartz has obtained some of the slides that Salakhutdinov used during the presentation, giving us a glimpse at the advancements Apple is making in AI and machine learning.
Based on one of the slides, topics at the lunch were wide-ranging, including health and vital signs, volumetric detection of LiDAR, prediction with structured outputs, image processing and colorization, intelligent assistant and language modeling, and activity recognition.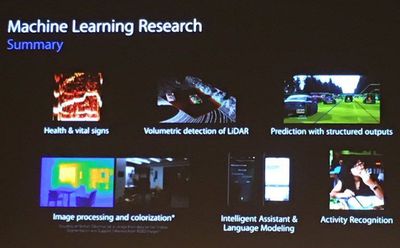 One of the slides, related to Apple's LiDAR work, featured a picture of two cars, but Apple engineers did not mention cars or any automotive research, such as self-driving vehicles. Another slide focused on Apple's image recognition algorithms, which are able to process 3,000 images per second, twice as fast as Google's capabilities. Apple's work on smaller neural networks that can run directly on devices was also covered.

Another slide focused on Apple's ability to build neural networks that are 4.5 times smaller than the originals with no loss in accuracy, and twice the speed. The technique, not unknown in AI research, uses a larger, more robust neural network to teach another network the decisions it would make in a variety of situations. The "student" network then has a streamlined version of the "teacher" network's knowledge. In essence, it predicts the larger network's predictions about a given photo or audio sample.
The discussion also covered some of Apple's research focus areas:
- Deep generative models
- Model compression
- Holistic scene understanding
- Model reliability
- Deep reinforcement learning
- Unsupervised learning, transfer learning, one-shot learning
- Reasoning, attention & memory
- Efficient training on distributed computing
Going forward, Apple plans to allow its AI and machine learning researchers to start publishing papers, marking its willingness to contribute to the research community. Apple has always been notoriously secretive, but allowing researchers to publish could attract top talent that would not otherwise want to join the company.
A full rundown of the slides from Apple's presentation can be seen over at Quartz.