iOS 11 Overtakes iOS 10, Now Installed on 47% of Devices
A little over three weeks after being released to the public, iOS 11 adoption has reached its 47 percent, successfully overtaking iOS 10, according to data collected by analytics company Mixpanel.
With iOS 11 installed on 47 percent of devices, iOS 10 is now installed on 46 percent of devices. 6.7 percent of devices also continue to run iOS 9 or earlier.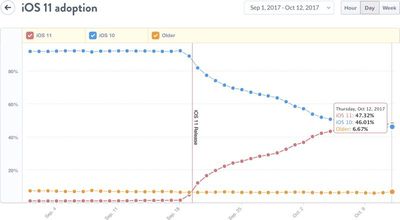 iOS 11 adoption has been much slower than iOS 10 adoption during the same timeframe last year. It took just two weeks for iOS 10 to overtake iOS 9, while iOS 11 was only installed on 38.5 percent of devices at the two week mark.
Adoption rates have been steadily increasing, though. At 24 hours, iOS 11 was installed on 10 percent of devices, and at one week, it was installed on 25 percent.
Apple has released three minor updates to iOS 11 so far to fix bugs and issues discovered since its launch. The most recent update, iOS 11.0.3, came out just yesterday.
The first major update to iOS 11, iOS 11.1, is in the works and that update may spur people running iOS 10 to upgrade to iOS 11. iOS 11.1 introduces new emoji characters, often popular with users, and it reintroduces a 3D Touch gesture that lets the App Switcher be accessed with one hand.