iOS 11 Now Installed on 38.5% of Devices Two Weeks After Launch
Two weeks after being released to the public, iOS 11 is installed on 38.5 percent of iOS devices, according to data collected by analytics company Mixpanel.
Since last week, iOS 11 adoption has grown by just over 10 percentage points. At the 24 hour mark, iOS 11 was installed on 10 percent of devices, and at the one week mark, iOS 11 was installed on 25.28 percent of devices.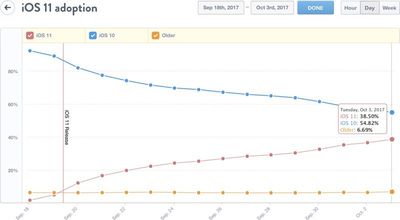 iOS 11 adoption rates have been slower than iOS 10 adoption rates during the same time period last year. Two weeks following the release of iOS 10 in September of 2016, the update installed on 48.16 percent of devices, putting iOS 11 about 10 percent behind.
It's not clear why iOS 11 adoption is lagging so far behind iOS 10 adoption, but it could be due to the fact that key features like peer-to-peer Apple Pay and iCloud storage for iMessages have been delayed until a later update.
Apple has already released two minor updates to iOS 11, iOS 11.0.1 and iOS 11.0.2, both addressing bugs in the operating system. The most recent iOS 11.0.2 update, for example, fixes an issue that caused some iPhone 8 and iPhone 8 Plus models to emit a crackling sound from the earpiece during phone calls.
As iOS 11 adoption grows, the number of users on iOS 10 has been decreasing. 54.82 percent of iOS users continue to run iOS 10, while 6.69 percent run an older version of iOS.