Samsung Galaxy Note 8 Ties iPhone 8 Plus in DxO Labs Camera Test
Samsung's Galaxy Note 8 produces generally better results than the iPhone 8 Plus when shooting still photography, but falls short of Apple's handset when it comes to recording video. That's according to the latest comprehensive smartphone camera test conducted by Dxo Labs, in which the two phones essentially came out tied overall.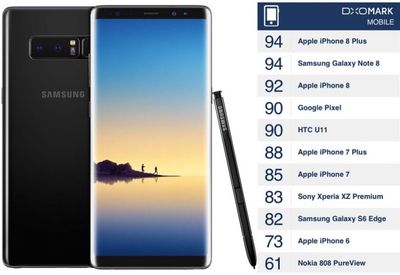 The reviewers singled out Samsung's device for its "phenomenal" photo sub-score, which as the first smartphone to achieve 100 points in the category, "breaks new ground and makes the Note 8 the current class-leader for stills, thanks to excellent zoom quality, good noise reduction and detail preservation, and fast and accurate autofocus".

The Note 8 is Samsung's first foray into the world of dual cameras and is a great success, offering the best zoom capabilities of any mobile device we've tested to date. Add to that PDAF autofocus, optical image stabilization, Auto HDR, and a massive 6.3" Super AMOLED display, and there's plenty for smartphone photography enthusiasts to get excited about.


Overall, Note 8 achieved a DxOMark mobile score of 94 points, making it the joint-leader for smartphone image quality alongside Apple's iPhone 8 Plus, which the site previously praised for having the best smartphone camera they had ever tested. The Note 8's low-light photos showed less noise and more detail than its rivals, although HDR mode tended to clip highlights and highly backlit subjects didn't always turn out very clear.
In terms of video, the Note 8 was notable for offering good exposure with fast convergence, fast and stable autofocus, as well as good noise reduction, white balance, and color rendering. However, while the Note 8 trumped Apple's phone when taking stills, its video performance suffered due to residual motion when holding the camera still during recording, earning it a video sub-score of 84. In comparison, the iPhone 8 Plus achieved 89 in the same tests.


DxO says it has analyzed the image and video quality of over 10,000 cameras, lenses, and mobile phones, and its tests are generally respected within the industry. The company also sells some consumer-facing products like the DxO ONE camera, which can be plugged into an iPhone's Lightning connector.
The full review is worth checking out, and includes additional photos and analysis of the Samsung Galaxy Note 8's dual cameras compared to its rivals.