Angela Ahrendts Climbs to Thirteenth Spot in Fortune's 'Most Powerful Women' List for 2017
Apple's senior vice president of retail stores, Angela Ahrendts, has climbed to grab the 13th spot on Fortune's "Most Powerful Women" list for 2017. In 2015 Ahrendts took the 16th spot, and in 2016 she rose to the 14th spot.
The top 5 women on the list this year are Sheryl Sandberg (Facebook COO, #5), Abigail Johnson (Fidelity Investments CEO, #4), Marillyn Hewson (Lockheed Martin President and CEO, #3), Indra Nooyi (PepsiCo CEO, #2), and Mary Barra (General Motors CEO, #1).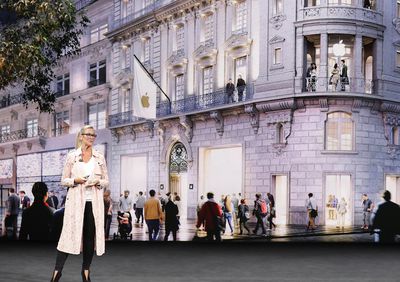 Fortune's list includes a brief summary of Ahrendts' latest accomplishments at Apple:

Since being persuaded by Tim Cook to join Apple in 2014 (she previously led British fashion brand Burberry), Ahrendts has been heads down on the tech behemoth's largest store redesign in 15 years. In May the company launched its long-awaited "Today at Apple" initiative, which seeks to supplement public education through free courses on everything from coding to music production to photography. Apple's highest-ranking woman, she oversees 60,000 retail employees and is responsible for the in-store experiences of a more than a million daily customers. Research firm eMarketer estimates that the combined revenue from in-store and online sales is nearly $50 billion. Ahrendts was the second executive after Cook—and the only woman—to take the stage at September's keynote, where she spoke at length about Apple's "town squares"—the new moniker for its retail stores.
Ahrendts joined Apple from Burberry in the spring of 2014, when she said she'd bring a personal touch to Apple's retail management. Three years later she has spearheaded the launch of Apple's next-generation retail store design and "Today at Apple" classes worldwide.
Last week, Ahrendts also appeared on stage during Apple's iPhone X keynote event, where she went into detail about new and upcoming Apple Town Square locations in Chicago, Paris, and Milan.
For more information on Fortune's ranking, the site has published a few articles today: explaining the list's continued importance, highlighting the newcomers, and pointing out those who have dropped off the list this year.