Angela Ahrendts Talks Concepts Behind Next-Generation Apple Stores at Most Powerful Women Summit
Angela Ahrendts, Apple's Senior Vice President of Retail, was the opening speaker for Fortune's annual Most Powerful Women Summit, speaking a little about the next-generation Apple retail stores, her vision for Apple's physical presence and more.
Ahrendts started the evening by talking about her background and how Apple CEO Tim Cook recruited her, mentioning that she originally tried to convince Cook she wasn't right for the job. Ahrendts said that her big pitch for Apple was to integrate Apple's retail and online stores and turn the company's physical prescence into a bigger part of the communities they operate it. Cook, much to her surprise, loved the idea.
She said that she believes that "the bigger the company, the bigger the obligation" of that company to do something other than rake in profits. One of the things on her agenda was education, so Ahrendts planned on a next-generation of Apple retail stores that could function as something more than retail stores.
The new next-generation store designs are the culmination of that vision, featuring a town square concept that's focused less on selling things and more on enriching lives. She notes that the retail side of the company tries to hire candidates based on their empathy and compassion so that they can enrich lives rather than salesmanship. For instance, Apple wants to teach kids things they can't learn in school, which is why the retail stores will start hosting Swift programming lessons for kids, teachers, and parents.
The lessons, which are currently available for teachers at Apple Union Square in San Francisco, will slowly roll out to next-generation stores by next year. Kids, teachers, and parents will be able to attend Apple retail stores and learn to code for free three times a day. Currently, Apple provides educational camps for kids during the summer.
Another driving force behind the next-generation stores was making the retail spaces represent the products better. "How do we make it so the best of Apple can come together in one place?" Ahrendts said they asked as they designed the new stores. Their solution was to map out everything people did on their devices and integrate them into the stores, which meant a larger focus on the liberal arts.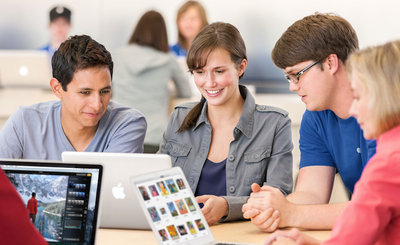 Ahrendts said that she's always been in a believer of Steve Jobs' "technology married with the liberal arts" philosophy, and that she wanted to increase the presence of liberal arts in the stores. She explained the new Creative Pro position at Apple retail locations is the liberal arts equivalent of the Genius, and that the two are equal in terms of importance. Creative Pros are supposed to help you figure out what to do with your Apple product, which could range from photography lessons to coding to learning how to make movies or music.
Another way of integrating the liberal arts with the retail stores is turning the stores into community centers. "On the weekend you'll see an artist sketching things or a guy playing a guitar," Ahrendts said. The goal is to help foster human experiences that draw people out of their digital bubbles. The town square concept also extends to naming. The accessory-laden "avenues" represent avenues bordering a town square, while the giant screens are called "forums" because they act as a hub for many activities.
Finally, Ahrendts said she considers the retail store the biggest product Apple has. Employee retention is also strong, with Ahrendts saying they have an 87 percent retention rate, better than the average retail retention rate of 20 percent. The company plans to have 95 next-generation Apple stores open by the end of the year.
Ahrendts has been the head of Apple's retail efforts since 2014, when she left her job as CEO of Burberry to join the Cupertino company. Earlier this month, Ahrendts had her title shortened from Senior Vice President of Retail and Online Stores to just Senior Vice President of Retail, reflecting Apple's new vision of tightly integrating its online and retail efforts. Similarly, Apple dropped the "Stores" from Apple store branding in August, reflecting a more singular experience as well as Apple's efforts to turn the store into more than retail outfit.