Angela Ahrendts to Bring a Personal Touch to Apple's Retail Operations This Week
During last week's earnings conference call, CEO Tim Cook confirmed that Angela Ahrendts will be transitioning from Burberry and officially joining Apple this week as its head of retail. Her achievements and personality as the CEO of Burberry have been well-publicized, but her Midwestern roots, early career influences, and resulting business and life philosophies are less well-known. These characteristics were recently detailed in a lengthy profile by CNET.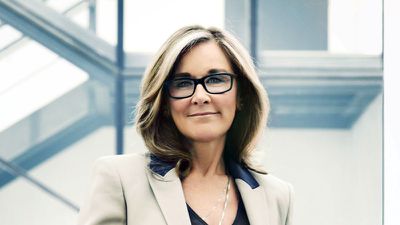 Ahrendts was born in 1960 in the small town of New Palestine, Indiana, where she was one of six children. As a young girl, she "lived vicariously through fashion magazines" and moved to New York after graduating from Ball State University to pursue her dream job in the fashion industry. She got her start at bra maker Warnaco and then landed a position at Donna Karan in 1989. She rose through the ranks at DK to eventually become President of the New York-based fashion house.
When Donna Karan changed its focus, Ahrendts transitioned to Liz Clairborne as the executive vice president and finally landed at Burberry, where she rejuvenated Burberry's image and sales as CEO of the London fashion house. When she started in 2006, Burberry was a well-known rainwear company and upon her leaving a short eight years later, the company is now an internationally acclaimed fashion label.
Ahrendts has a personal management style that keeps her in touch with her employees, traveling to stores to meet them and "communicating constantly" with them via email to thank them for their work. She credits her Midwestern values that taught her compassion towards others, humility, and hard work were the keys to success. It is this human touch that Ahrendts will be bringing to Apple's all-male executive team and will be a balance to the company's technology and engineering focus.
"Technology has given us access to the world and its sea of content, allowing us to never speak to another person if we don't want to," she said. "Computers and smart devices are among the greatest intellectual gifts ever created for man, but if not balanced with human contact, may offer little to develop ones heart. Don't get me wrong, I am mesmerized by this Digital Tsunami, but Google doesn't have all the answers, and are all those people on Facebook truly your friends?"
Ahrendts will be joining Apple at a time when its retail sales are flat, despite an increase in the number of retail stores opening worldwide. As noted by Bloomberg's European correspondent Caroline Hyde, analysts are watching Ahrendts closely with the expectation that she will bring her luxury flair to Apple's retail operations and repeat with Apple what she did with Burberry.
Ahrendts will head up Apple's retail push in 2014 and beyond after several years of instability in the division. The company confirmed during its recent
Q2 2014 earnings conference call
that it will continue to invest in retail stores in 2014. It recently opened its first retail stores in
Brazil
and
Turkey
, expanding Apple's retail presence to a total of 15 countries. Apple also will continue its focus on China with a plan to triple the number of Apple retail stores in the Asian country over the next two years.