Samsung Rumored to Return to iPhone Chip Production in 2018
Samsung Electronics will return to producing chips for Apple in next year's iPhone lineup, according to a new report today by The Korea Herald. Before, Taiwan Semiconductor Manufacturing Company held the sole supplier responsibility of providing Apple's A10 chip in the iPhone 7, as well as the A11 chip in the upcoming iPhone 8, but now today's report references a "crucial deal" made between Samsung Electronics co-CEO Kwon Oh-hyun and Apple during a visit to Cupertino last month.
According to the report, Samsung managed to close the deal because of the company's decision to purchase equipment solely intended for 7-nanometer chip fabrication for iPhone devices. This move, as well as using Samsung's "close ties on OLED," convinced Apple to reintroduce the supplier into the iPhone chip supply chain. Although details remain vague, The Korea Herald's sources said that Samsung would "share some parts" of the 2018 iPhone orders that have been previously monopolized by TSMC.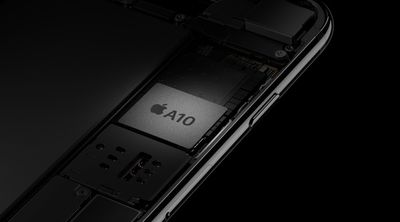 According to news reports on July 18, Samsung recently purchased extreme ultra violet lithography machines, the most advanced chip manufacturing equipment, to produce seven-nanometer mobile processors solely for iPhone.

"The CEO could persuade Apple's top brass taking advantage of their close ties on OLED," said an industry source. Samsung, the world's largest mobile OLED maker with a whopping 95 percent market share, is the sole OLED supplier for the upcoming iPhone.
In 2015, Apple dual-sourced the A9 chip from both TSMC and Samsung for the iPhone 6s and iPhone 6s Plus, leading to some blowback from consumers when battery tests were performed and saw the TSMC chips outperform those made by Samsung. To avoid that issue again, and thanks to TSMC's aggressive moves to adopt smaller and more energy efficient manufacturing processes, Apple chose the company as the sole supplier of the A10 and A11 chips.
Now, Samsung is said to be preparing tests for its own chip processing machines, and next plans to "seek final approval from Apple for the chip production" for what will presumably be called the A12 chip. As the sole OLED supplier for the 2017 iPhone, Samsung Display's deal with Apple has placed the manufacturer with providing between 70 and 92 million OLED displays for the upcoming iPhone 8. Apple is predicted to shift to OLED-only iPhone production as soon as 2018 or 2019.