Apple Signs Two-Year Deal With Samsung For 92 Million OLED iPhone Panels
Apple has reportedly signed a two-year contract with Samsung for the supply up to 92 million curved OLED panels, as it attempts to ramp up capacity for this year's release of its high-end "iPhone 8".
Earlier this week supply chain sources claimed Apple had ordered 70 million units of panels from Samsung, its sole OLED supplier for the upcoming phone, which is expected to feature a major design overhaul. However, according to reports on Thursday in Korea-based ET News, Chosun Biz, and other media outlets, Apple has upped its OLED demands in an effort to cater for higher demand later this year and beyond 2017.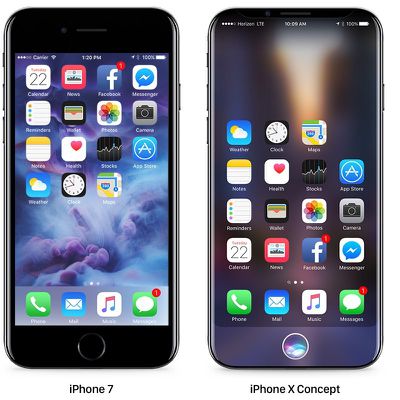 Based on the contract, Samsung Display will ship 70-92 million small-size OLED panels to Apple in 2017, said the reports. This means that about 30% of iPhone devices shipped in 2017 will come with curved OLED panels, given that Apple currently ships about 200 million iPhone devices a year.
Rumors have consistently suggested Apple will offer the OLED iPhone alongside more typical iPhone 7S and 7S Plus models with standard LCD panels when it announces the devices in September. Apart from a 5.2-inch edge-to-edge display, the redesigned "10th anniversary" iPhone is thought to feature a glass body, some form of wireless charging, no Home button, and a premium price tag.
Meanwhile, Taiwan-based Yuanta Securities Investment Consulting has estimated that shipments of Apple's forthcoming iPhones are likely to reach 100 million units in 2017. At least 55 million of the units are expected to feature OLED panels.
Samsung has reportedly converted an LCD factory in Asia into an OLED panel plant to meet Apple's demands. The South Korean firm's total investments for OLED production lines could reach 10 trillion won in 2017, according to sources from the supply chain.
(via DigiTimes.)