Supply Chain Evidence Mounts for Advanced 3D Sensing Abilities Coming to iPhone 8
Ahead of the iPhone 8's predicted September announcement date, supply chain reports over the past few days have indicated a ramp up of 3D sensing components that are predicted to be destined for augmented reality and biometric security applications in 2017's high-end iPhone 8. In a research note by BlueFin Research Partners, "winners" for iPhone 8 component production are said to include Finisar and Lumentum for 3D sensing modules and Broadcom for wireless charging components (via Barron's).
Reports began building last week when iPhone camera component supplier Largan Precision confirmed that it will ship lenses for 3D sensing modules in the second half of 2017, while refraining from directly mentioning Apple and iPhone 8. In a recent quarterly earnings report, supplier Finisar made remarks that heavily suggested it will be "one of two or three suppliers" of vertical-cavity surface-emitting lasers (VCSEL) in the iPhone 8, according to LoupVentures.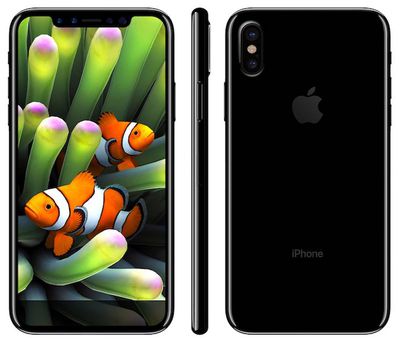 iPhone 8 rendering by Benjamin Geskin
Such technology could be implemented into the iPhone 8's
rumored 3D sensing module
and help "enrich the augmented reality experience" in the next-generation iPhone. Apple and CEO Tim Cook earlier this month
detailed plans to back AR
and its potential as an indispensable future technology with the
reveal of ARKit
, a developer platform that will provide the building blocks for
consumer AR iPhone apps
.
Likewise, Lumentum has announced that it expects to see volume shipments for its VCSEL lasers begin in the second half of 2017, timed with the annual production ramp up of iPhone manufacturing.

On last nights earnings call, Finisar management did not mention Apple by name, but they highlighted they expect to see volume VCSEL orders in their second fiscal quarter, which is the October quarter end of this calendar year. The company anticipates shipping "millions" of units during the quarter, but management also went on to say they anticipate unit shipments to be in the "10s of millions" in future quarters, which gives us further confidence 3D sensing and AR applications will be one of the focus features in the next generation of iPhones. In May of this year, Lumentum was the first VCSEL supplier to announce they anticipate volume shipments to begin in the second half of 2017.

We also want to highlight Finisar acknowledged they are shipping VCSEL lasers to multiple customers, but one customer (aka Apple) is accounting for the majority of total demand. We believe Finisar and others supplying VCSEL lasers are supply constraint and shipping everything they can manufacture. We believe Apple has secured a high percentage of all VCSEL lasers created, which we view as a large competitive advantage and will make Apple a leading AR player in the smartphone space.
LoupVentures further suggested that the significantly updated iPhone 8 will have a front-facing, low-end VCSEL laser and a rear-facing, high-end VCSEL laser, meaning that AR applications could take advantage of either camera. A long-running rumor for the iPhone 8 has been a dual-lens rear camera that could provide increased separation between the two lenses and allow for a greater difference in perspective, helping fuel better AR experiences. A front-facing dual-lens camera has been suggested as a possibility in the new iPhone as well.
In estimating the iPhone 8's cost, the site believes that Apple will add around $100 onto the cost of the smartphone specifically due to incorporating 3D sensing modules. That price comes to around $950 (with no storage tier size references), and largely falling into line with the new iPhone's predicted "premium" status.
For its part, Broadcom is said to have a predominant place in the supply chain for wireless charging components of the iPhone 8, a feature fellow supplier Wistron recently confirmed will be coming to at least one of 2017's iPhone models. iPhone 8's wireless charging is expected to be fueled by inductive technology, because long-range wireless charging for an iPhone is still expected to be years away from feasibility.
In total, reports surrounding iPhone 8 component manufacturing have been increasing recently, with Apple said to be dominating the NAND memory chip supply chain and increasing shortages for an already strained section of component supplies.