Apple's ramping up of "iPhone 8" component production is causing some electronics manufacturers to scramble for parts, particularly DRAM chips and NAND memory chips, ahead of the expected September launch of the three 2017 iPhones. The companies are said to be "paying a premium" to sign longer-term contracts as well as placing component orders ahead of time to prevent low inventories from disappearing completely amid Apple's supply chain dominance.
One of the manufacturers looking to make sure it doesn't run out of parts is LG Electronics, which said it has decided on an earlier procurement strategy for gathering components "to ensure a stable supply." NAND chip maker SK Hynix also told Reuters that its supply conditions were "tight" and that its inventory levels "were at an all-time low," with no clear indication in sight when they would rise to normal again.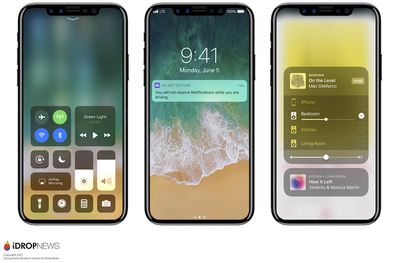 Analysts believe that the NAND memory chip market will be particularly affected, given Apple's move in recent years to bump up storage on the smartphone. The current shortage is said to have been making waves through various smartphone device suppliers beginning in the first half of 2017.
Some analysts say device makers could be forced to cut down on the amount of DRAM chips, which help devices perform multiple tasks at once, or NAND chips that are used for long-term data storage, on new products if the cannot get enough chips.

"The problem will be more acute for the NAND market, where the iPhone remains a critical source of demand given the huge sales volumes and recent moves to increase storage capacity on the device," said the source, who declined to be identified as he was not authorized to speak publicly on the matter.
"Heavyweight" NAND suppliers, like Samsung, are said to be in the clear in regards to the predicted component shortage, but in the worst case scenario it has already hit smartphone maker Huawei in China. Customers in the country have raised criticisms at the company after it used a collection of "less advanced and powerful chips" in its flagship smartphone, the P10, resulting in drastic performance variations among users.
In total, Apple is said to purchase 18 percent of the world's supply of NAND memory chips and that number will only increase if Apple decides to ship more iPhones than usual, or further bump up the storage tiers on the 2017 iPhone models. A rumored premium price tag on the iPhone 8 suggests that Apple might be planning to introduce a storage capacity above the iPhone 7's top-tier option of 256GB, but reports still vary, with TrendForce believing the device will come in 64GB and 256GB only.
In separate supply chain reports this week made by DigiTimes, smaller Apple component suppliers have begun ramping up manufacturing for parts believed to be coming to iPhone 8, iPhone 7s, and iPhone 7s Plus. Metal-alloy chassis maker Catcher Technology is gearing up production for the 2017 iPhone 7s' aluminum metal casing -- stainless steel is reportedly coming only to iPhone 8 -- as well as its glass back covers.
Similarly, Lite-On Semiconductor is said to have entered the supply chain for the three new 2017 iPhones by becoming a provider of glass passivated package bridge rectifiers "for the support of fast wireless charging."
Analysts believe Apple could ship as many as 100 million iPhone 8 devices this year, and that "meaningful new supply" for NAND and DRAM chips won't arrive in the supply chain until 2018.