Apple Orchard Road in Singapore Officially Opens to the Public
Apple today officially opened up its first retail location in Southeast Asia, Apple Orchard Road in Singapore, to the public at 10:00 a.m. local time. The store marks the newest addition to Apple's next-generation retail rollout, following similar design principles and community-focused values seen at Apple Union Square in San Francisco and Apple Dubai Mall.
As the first Apple retail store in Southeast Asia, Apple Orchard Road has received a lot of attention over the past few weeks leading up to its grand opening. Reports began to ramp up in early May when Apple
put up a mural
in front of the store that displayed large "Apple Loves Singapore" artwork in various places. Upon closer inspection, the details of the artwork represented different "Creative Pros" who will now help run Apple Orchard Road's "Today at Apple" programs.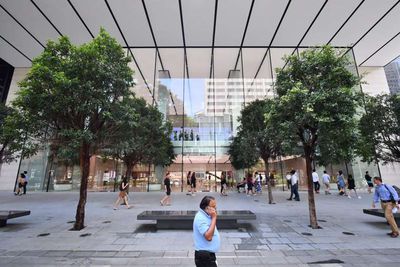 After the
opening date was announced
, Apple
removed the barricades
from the storefront, unveiling the design of the inside of the store for the first time. Earlier this week, the Cupertino company then allowed
members of the press to visit the store
and take pictures of its next-generation design, which included a curved staircase inspired by Apple Park and an upstairs "town hall" gathering space for Today at Apple sessions.
Apple Orchard Road is the newest step in the company's plan to eschew more traditional retail establishment principals where the only purpose is to visit the store to buy something, and encourage customers to be inspired by the products through Today at Apple. When the company announced the new sessions would begin expanding worldwide in May, Apple senior vice president of retail, Angela Ahrendts, said that Today at Apple was catalyzed by Apple's "desire to educate and inspire the communities we serve."
Ultimately, Ahrendts hopes that the next generation refers to Apple as a meeting spot similar to the communal nature of a place like Starbucks. "Starbucks figured it out, you know? Being a gathering place for – right? 'Meet me at Starbucks,'" Ahrendts said. "And you know, I've told the teams, 'I'll know we've done a really, really great job if the next generation, if Gen Z says, "Meet me at Apple. Did you see what's going on at Apple today?"'"