Apple last night removed the blockades previously obscuring the inside of its new retail location in Singapore, which will officially be called Apple Orchard Road when it opens this Saturday, May 27 (via The Straits Times).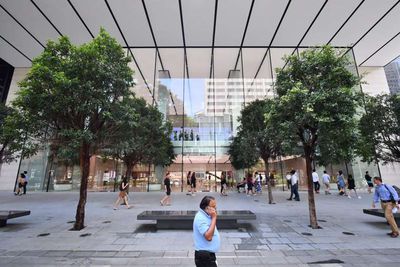 After the "Apple Loves Singapore" artwork was removed from the location, people passing by have gotten the chance to take a glimpse inside the two levels of the store. The bottom level is said to be the place where customers will browse and purchase iPhones, iPads, Apple Watches, Apple TVs, Macs, and various accessories, while the top floor will be home to "Today at Apple" classes.


Work on opening the first official Apple retail location in Singapore has been ongoing for well over a year, with Apple confirming the store's existence in November 2015, the same month it began hiring for the new location. Once it opens on May 27, the store will be open daily from 10 a.m. to 10 p.m. local time.


Apple Orchard Road's grand opening coincides with the beginning of the company's new Today at Apple initiative, which kicked off this past weekend. Apple recently celebrated the launch of the educational classes by sharing a collection of photos that show its visitors learning to code, taking pictures, creating illustrations, and producing music all on iOS and macOS devices.