Apple's first retail store in both Singapore and Southeast Asia will open Saturday, May 27 at 10:00 a.m. local time, according to an official opening date recently added to the white facade covering the long-awaited Orchard Road location.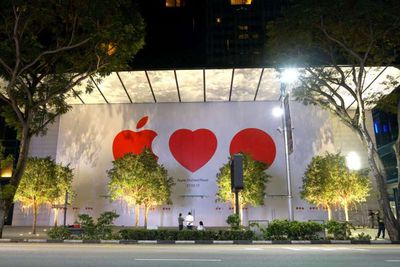 As noted by The Straits Times, workers were seen adding the opening date on the white facade that covers the front of the store at the Knightsbridge shopping complex close to midnight on Tuesday night local time.
Earlier this month, Apple began removing construction barriers around the store, revealing a large mural and 12 smaller pieces of artwork that showcase the Apple logo, a heart, and a little red dot, referencing Apple's love for Singapore. "Little red dot" is a widely known nickname for Singapore, home to over 5 million people.
Apple's plans to open its first retail store in Singapore were revealed by gym chain Pure Fitness, which closed in December 2015 to make space for the Apple Store in its exact location. Apple confirmed the store and began hiring retail employees in November 2015, and construction has been underway over the past year.
The store will open daily from 10 a.m. to 10 p.m. local time. The location will likely feature Apple's next-generation retail design.
Update: Apple has listed the Orchard Road store on its website.