Construction barricades have recently begun disappearing around Apple's first retail location in Singapore, revealing a large mural and 12 smaller pieces of artwork that showcase the Apple logo, a heart, and a little red dot, referencing Apple's love for Singapore.
Inside each of the little red dots Apple has personalized the barricades further, changing the artwork to represent illustrator Kristal Melson, photographer Aik Beng Chia, app developer Hon Cheng Muh, and more creatives.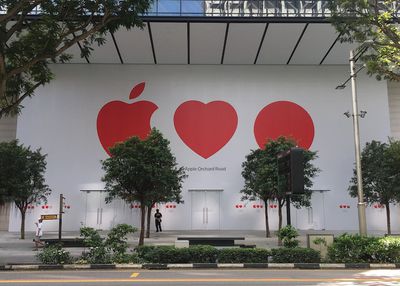 The company has also listed quotes under each Apple Loves Singapore sign, with Muh's reading: "It's crazy that what I'm doing now did not exist 10 years ago. It took a lot of patience getting past the steep learning curve. But change is possible when there's passion."
According to The Straits Times, these 12 pieces of art represent 12 Creative Pros -- or "Red Dot Heroes" -- hired by Apple who will work at the store to be the "liberal arts equivalent of Apple technical geniuses." The workers will be part of Apple's just-announced Today at Apple retail initiative, which is expanding worldwide this month.


The Apple retail store will be located on Orchard Road, an entertainment and shopping hub of Singapore, and officially be known as Apple Orchard Road. The location has been talked about since the fall of 2015, but Apple never gave a clear timetable for the store's opening once it missed its original late 2016 debut.


It remains unclear exactly when Apple Orchard Road will open, but progress on the store appears to be nearing completion. The retail location will be run on 100 percent renewable energy, as does all of Apple's operations and facilities within Singapore.
(Thanks, Kenneth!)