Apple Reaches $800 Billion Valuation On Path to Becoming World's First Trillion Dollar Company
Apple's stock is currently trading above the $153 mark for the first time ever, after factoring in a 7-for-1 split in 2014, giving the company a record-high market cap of roughly $800 billion. That means Apple is within $200 billion of becoming the world's first trillion dollar company.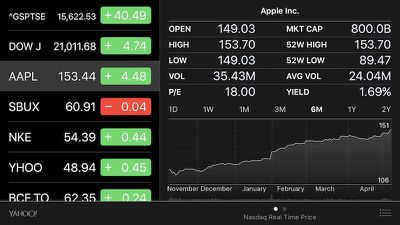 Google Finance values Apple at closer to the $810 billion mark today, but the tool appears to be overcounting the company's number of outstanding shares, which totaled 5,225,791,000 as of last quarter. Apple's outstanding shares have declined as the company continues its share buyback program.
Apple's stock has been on an impressive run since dropping to as low as $89.47 in 2016, when the iPhone maker reported its first decline in annual revenue since 2001, and its first drop in iPhone sales ever.
Apple analyst Brian White of Wall Street investment firm Drexel Hamilton continues to believe Apple "remains among the most underappreciated stocks in the world," with "attractive upside" for investors. White raised his 12-month price target for Apple's stock to $202 today, up from an already bullish $185.
An excerpt from White's research note, distributed today and obtained by MacRumors:
Apple's valuation has been depressed for years as investors grew concerned that Apple would fall victim to the missteps of consumer electronic companies of the past. However, Apple has proven its resilience through its unique ability to develop hardware, software and services that work seamlessly together. We believe this positions Apple very well to capitalize on the trend toward more "things" becoming a computer.
White's price target implies that Apple could become the world's first trillion dollar company within the next year. Apple shares trading for $202 would currently give the company a market cap of around $1.05 trillion.
Over a dozen prominent Wall Street analysts remain upbeat about Apple's stock price heading into the second half of the year, with lots of excitement surrounding the significantly redesigned "iPhone 8" expected to launch in the fall. The smartphone's sales may be boosted by a large "supercycle" of users due to upgrade.
Apple's stock had briefly declined to as low as $144.27 last week after its second quarter earnings results fell slightly below Wall Street expectations, but the drop proved to be only a blip on the radar.
Update: Apple's market cap has reached $800 billion. This article has been updated accordingly.