Apple's Stock Has Already Bounced Back After Earnings Results Slightly Missed Expectations
Apple's stock has recovered from early week losses incurred after the company's earnings results fell slightly below Wall Street expectations.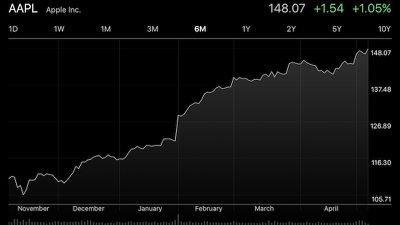 Apple shares are currently trading for roughly $148, slightly above Tuesday's closing price of $147.51, set just before the company's earnings report. The stock had dropped to as low as $144.27 on Wednesday, but Apple has bounced back since alongside an overall rise in the S&P 500 index today.
Wall Street remains bullish on Apple heading into the second half of the year, as most analysts think the so-called "iPhone 8" with an OLED display and wireless charging will be a hit among customers. There's also a larger than usual "supercycle" of customers with older iPhone models due to upgrade.
MacRumors obtained research notes from 19 analysts tracking Apple, and 15 of them continue to rate the company's stock as a "buy" or equivalent following the company's second quarter earnings results. All but three analysts believe that Apple's stock price could rise to between $150 and $185.


Apple's stock has been steadily climbing in value since dropping to a 52-week low of $89.47 in 2016, when the iPhone maker reported its first decline in annual revenue since 2001, and its first drop in iPhone sales ever.
AAPL touched $148.20 in intraday trading this morning, a new all-time high. The stock is on pace to top Tuesday's record close of $147.51.