Apple Stock Splits 7-for-1, Opens at $92 With All-Time High Just Over $100
This morning, Apple's stock underwent a 7-for-1 split, awarding 6 additional shares to each shareholder of record at 5PM PDT on Friday. Simultaneously, the price of the stock has been divided by 7 and should open around $92 after closing on Friday at $645.
Apple's all-time high stock price, reached in September 2012, is $705 or $100.72 post-split.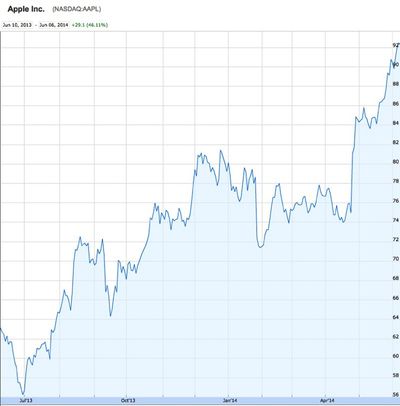 Apple's stock has split on three previous occasions, on a 2-for-1 basis, in 1987, 2000 and 2005. Apple has said that it wanted to make its stock "more accessible" to a wider variety of customers, but Apple could also be aiming for inclusion in the Dow Jones Industrial Average index. The Dow is price-weighted, meaning Apple's previous stock price of nearly $700 would have resulted in an significant reweighting of the index and a $92 would put it in the right price range for inclusion.
As the most valuable publicly traded company in the world, with a market cap of more than $550 billion, Apple could be a logical addition for the index. It would join a number of other high-tech companies listed including Cisco, IBM, Intel, Microsoft, AT&T and Verizon.
Apple went public on December 12, 1980 for $22 per share. Accounting for its four stock splits, Apple's stock cost roughly $0.39286 per share at IPO, giving a return of roughly 23,400% over 33.5 years.