Early 'iPhone 8' Case Has Vertical Camera Cutout, Suggests Front-Facing Touch ID
Mobile phone leaker KK Sneak Leaks posted an image on Twitter this morning purporting to show one of the first third-party protective cases for Apple's upcoming redesigned OLED iPhone, which isn't expected to launch until at least September.
The transparent case has a few features that are consistent with recent schematics purporting to depict the front-running design of the so-called "iPhone 8". Most prominent is the cutout on the upper left of the case which indicates vertically aligned dual cameras, as opposed to the horizontal alignment on the iPhone 7 Plus.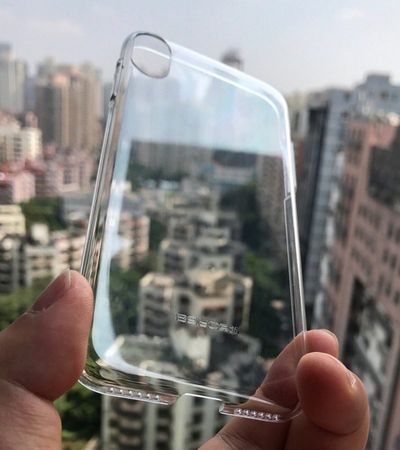 Purported third-party case for "iPhone 8" via KK Sneak Leaks
Conspicuous in its absence however is any sort of opening for a fingerprint sensor located on the rear, suggesting Touch ID will remain a front-facing feature. Apple is rumored to be trying to build Touch ID into the iPhone's display, but the company has reportedly been
struggling
with perfecting the technology, suggesting it could resort to putting the sensor on the rear of the device.
The pill-shaped volume buttons shown in the picture on the right side appear to be in their normal places, but the power button on the left looks longer than on previous iPhones, which is something we've also seen on recent dummy models. Elsewhere, the bottom of the case indicates standard speaker grille locations either side of what will presumably be an all-in-one Lightning connector.
Early case leaks have historically been fairly accurate indicators of new iPhone designs, with some exceptions, but this is a uniquely challenging year for third-party case manufacturers looking to nail down the final design.
Apple is still thought to be testing multiple prototypes for its upcoming "10th anniversary edition" iPhone, and rather than be privy to the final design, case makers may simply resort to following the most likely one based on the same leaks covered by rumor sites, so bear those caveats in mind.
Apple's 4.7-inch OLED iPhone is likely to be sold alongside two standard "S" cycle iPhones with LCD displays, which are said to be similar in size to the existing iPhone 7 and 7 Plus. Rumors suggest the leading candidate for the final chassis is a stainless steel frame sandwiched between front and rear symmetrical glass. Apple is also supposedly working on an inductive wireless charging solution for its "premium" handset model.
Rumors also suggest Apple's "iPhone 8" supplies may be highly constrained when the new range of phones launches, making it harder to obtain in the first few months of release, although this is not an unusual claim in the months preceding a new iPhone launch.