iPhone 8 Pre-Orders Still Expected in September, But Shipments Likely Delayed Until 'Several Weeks Later'
Apple's widely rumored trio of new iPhones, including traditional 4.7-inch and 5.5-inch models and an all-new 5.8-inch model with an OLED display, will likely be available to pre-order in September, but deliveries of the 5.8-inch model will not begin until "several weeks later," says longtime Apple analyst Brian White.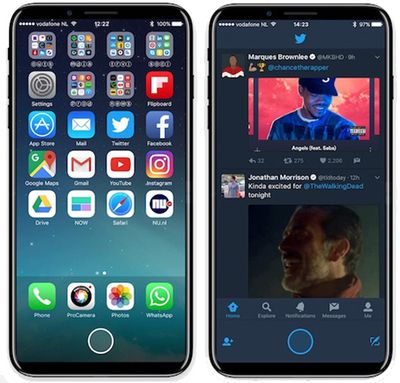 An excerpt from White's research note with investment banking firm Drexel Hamilton, obtained by MacRumors:
Our contact strongly believes the 5.8-inch iPhone 8 will be delayed by several weeks due to challenges around the 3D sensing technology, but still in time for the December holidays. This is not the first time that we've heard about a potential delay with a new iPhone; however, our contact was so emphatic about the delay that we are taking this data point more seriously. Since it is only April, this situation could improve. Essentially, our contact believes customers will be able to pre-order the new 5.8-inch iPhone 8 along with the new 4.7-inch and 5.5-inch iPhones in September; however, the 5.8-inch iPhone 8 will not be available for delivery until several weeks later.
White, who is currently in Taiwan to garner information from Apple's supply chain, cited a "smartphone contact" who is "diligently following the supply chain data points" around the tentatively named "iPhone 8" as the source of his information, so it's not a completely baseless prediction.
In fact, White's prediction lines up exactly with recent supply chain information gathered by the research arm of Barclays. The bank similarly expects Apple's first iPhone with an OLED display to launch in September, but it believes the majority of stock may not be available until later in the fourth quarter.
Together, the predictions suggest that shipping estimates for Apple's tenth-anniversary iPhone, which has been variously dubbed the iPhone 8, iPhone X, iPhone Pro, or iPhone Edition, could slip to several weeks out just minutes after pre-orders begin, much like the iPhone 7 Plus in Jet Black last year.
As usual, it might be hard to get your hands on the highest-end iPhone prior to the holidays, but it likely won't be impossible.
Chinese-language Economic Daily News recently said the "iPhone 8" might not launch whatsoever until October or November, as suppliers are supposedly encountering "technical issues" related to the display lamination process, while challenges exist in integrating the 3D sensing front camera system.
However, of the two scenarios, it seems more likely that at least some quantities of the "iPhone 8" will be available to pre-order in September alongside the tentatively named iPhone 7s and iPhone 7s Plus.