Samsung Reclaims Title of World's Largest Smartphone Maker As It Recovers From Galaxy Note7
Samsung topped Apple as the world's largest smartphone maker in the first quarter, as it continues to show signs of recovery following its disastrous Galaxy Note7 recall last year, according to Taiwanese research firm TrendForce.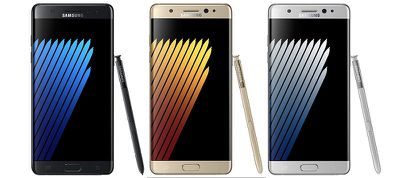 Samsung reclaimed the number one spot with an estimated 26.1 percent market share, trailed by Apple at an estimated 16.9 percent, said TrendForce. Chinese vendor Huawei, which aims to become the world's largest smartphone maker within four years, finished third with an estimated 11.4 percent market share.


Samsung is traditionally the world's largest smartphone maker, as it sells millions of inexpensive smartphones alongside its flagship devices, so this would normally be no surprise. However, after Samsung recalled the Galaxy Note7 due to defective batteries, Apple overtook its South Korean rival in the fourth quarter.
While the worst might be over for Samsung now, TrendForce said the company's sales results for its high-end smartphones still "fell short of expectations" in the first quarter, as consumer confidence in the brand had "yet to fully recover" from Galaxy Note7 recall and subsequent discontinuation in the fall.
Nevertheless, Samsung's continued success in the mid-range and low-end segments of the market allowed it to reclaim its crown.
The economically priced, high-performing Galaxy J series sustained Samsung's shipments and contributed significantly to the expansion of the brand's overall smartphone production volume. Samsung was the only brand that saw positive growth in production volume during the off season of the first quarter.
Samsung's focus has now shifted towards the Galaxy S8, set to launch later this month. The smartphone features an edge-to-edge 5.8-inch display with no physical home button, foreshadowing the rumored design of the tentatively named iPhone 8. And it shouldn't catch on fire like the Galaxy Note7, as Samsung now performs an 8-point battery check on all of its smartphones.
It's important to recognize that these are estimated figures only, and that shipments do not necessarily reflect sales to customers.
Apple will officially report its iPhone sales figures for the first quarter, corresponding with the second quarter of its 2017 fiscal year, on May 2.