Apple Overtakes Samsung As World's Top Smartphone Vendor in Q4 2016
Apple overtook Samsung to become the world's largest smartphone vendor in the fourth quarter of 2016 as shipments reached 439 million units.
According to independent research firm Strategy Analytics, global smartphone shipments grew 3 percent annually to hit a record 1.5 billion units in 2016. Apple shipped 78.3 million handsets in the fourth quarter of the year – around 800,000 more units than Samsung – allowing it to recapture its number one position with 18 percent global smartphone market share.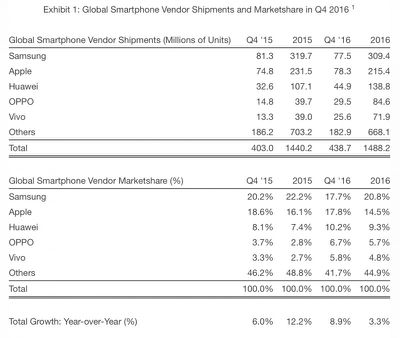 Apple shipped 78.3 million smartphones worldwide and captured 18 percent marketshare in Q4 2016, rising a steady 5 percent annually from 74.8 million units in Q4 2015. This was the iPhone's best performance for over a year, as Apple capitalized on Samsung's recent missteps. Samsung shipped 77.5 million smartphones worldwide in Q4 2016, dipping 5 percent annually from 81.3 million units in Q4 2015.
Bolstered by the popularity of the iPhone 7 and particularly the iPhone 7 Plus, Apple's 5 percent increase in shipments year-over-year helped it secure a 17.8 percent share of the global smartphone market, narrowly beating Samsung's share of 17.7 percent, which was negatively impacted by the company's Note7 battery fiasco. Samsung captured 21 percent share for the full year, marking its lowest level since 2011.
Despite the Q4 results, Samsung maintained first position in annualized figures, with 309 million units shipped worldwide in 2016, compared to Apple's 215 million units. Despite struggling in China against rivals like OPPO, Huawei's impressive overseas performance helped it maintain third position, with a record 10 percent global smartphone market share in Q4 2016 – the first time the company has reached double figures – while OPPO held on to fourth position and grew 99 percent annually to capture a record 7 percent global smartphone market share.
The research comes one day after Apple released its Q1 2017 financial results, in which it reported record results over what corresponds to the fourth calendar quarter of 2016. Cook was bullish on the iPhone's future, and talked up the smartphone's importance across a range of segments, including home automation, health, CarPlay, and enterprise. "I think the smartphone is still in the early innings of the game," Cook said during the earnings call. "App developers are still inventing and there are some exciting things in the pipeline that I feel really good about."