Huawei Closing in on Apple, Aims to Become World's Largest Smartphone Maker Within Four Years
Since 2011, the worldwide smartphone market has been dominated by Apple and Samsung. The elusive third-best spot, meanwhile, has failed to be held down by one vendor for an extended period of time, changing hands between Nokia, BlackBerry, Xiaomi, and Huawei over the past six years.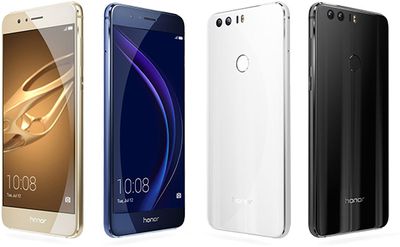 In 2014, it looked like low-priced Chinese vendor Xiaomi had firmly cemented its position as the world's third-largest smartphone maker, but less than three years later, it has fallen out of the top five or even six vendors, according to the latest quarterly data from research firms IDC and TrendForce.
Xiaomi's recent decline can be attributed to a limited physical retail presence and increased competition from Huawei's lower-end Honor brand. Xiaomi continues to avoid selling premium smartphones—its most expensive model costs around $400—and some of its Mi smartphones have received mediocre reviews.
Huawei has since dethroned Xiaomi as not only China's largest smartphone maker, but the world's third largest. And now, the company has its eyes set on challenging Apple and Samsung for the crown, reports Fortune.
"We want to grow into top two market share, and, in the future, top one by 2021," Huawei's consumer head Richard Yu told the publication.
In the first quarter of 2016, Huawei sold ten times as many smartphones as Apple in Finland, according to research firm IDC. In Europe, it is now the top-selling smartphone maker in Portugal and the Netherlands and the second biggest in Italy, Poland, Hungary, and Spain, according to the report.
But if Huawei ever wants to truly challenge Apple and Samsung, it will have to conquer a key market where it has failed to make a dent: the United States. Huawei does not even crack the list of top ten smartphone makers in the country, trailing behind smaller rivals such as BLU and OnePlus.
It doesn't help that Huawei lacks agreements with the U.S.'s "big four" carriers, namely Verizon, AT&T, T-Mobile, and Sprint. U.S. customers have to resort to retailers such as Best Buy or Walmart, or Huawei's direct sales website, to purchase one of their devices, reducing the brand's visibility in the country.
For its sake, Huawei appears to recognize it needs to take a new approach to the American market:
"The past five years we were not taking the right strategy," Yu says. "We didn't have the right people." Huawei recently hired Michelle Xiong, a former Verizon wireless executive with experience negotiating with device makers, to help sell Huawei's smartphones. But a Huawei staffer cautions that any carrier agreement is at least a year away, pushing meaningful success in the U.S. at least three years down the road.
Apple reported sales of 45.5 million iPhones in the third quarter, while IDC estimates Huawei shipped 33.6 million smartphones on the quarter, so the Chinese company is within striking range. But whether it can continue its momentum, or fall back into obscurity like Xiaomi, is something only time will tell.