Apple Has a Redesigned Fingerprint ID Solution For the iPhone 8
Apple is set to feature its own in-house developed integrated fingerprint ID technology in the OLED version of its next iPhone, according to a new report out on Friday.
Apple's upcoming "iPhone 8" is expected to feature a virtual home button embedded in the display, but questions persist over the role of Touch ID in such a radical redesign, as conflicting reports from analysts, rumors of biometric alternatives, and Apple patents abound.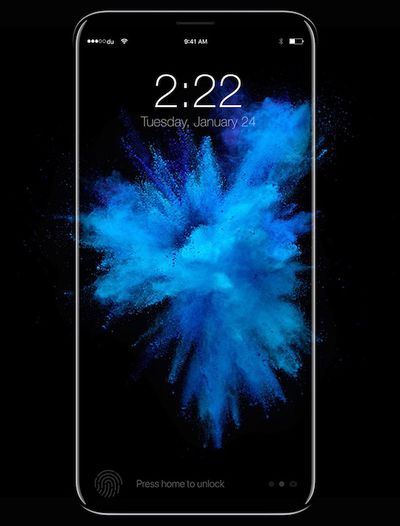 Today, DigiTimes cited industry sources claiming that an Apple-designed "built-in fingerprint sensor device" is indeed on the way, and will replace the traditional capacitive touch technology known as Touch ID.

Apple has selected neither Synaptics' Natural ID touch fingerprint sensor nor Qualcomm's Sense ID fingerprint technology for its new OLED iPhones, and decided to use its own Authentec algorithm combined with Privaris glass identification technology to redesign a new fingerprint ID solution, according to industry sources.
Apple's Touch ID fingerprint sensor technology originally came from AuthenTec, which Cupertino acquired in 2012, while the Privaris reference harks back to a patent portfolio Apple bought from the closed biometric security firm in June 2015 that included dozens of patents relating to fingerprint and touchscreen technology, including – in at least one example – the ability to use a touchscreen and fingerprint reader at the same time.
DigiTimes has sources within Apple's supply chain, but it has a mixed track record at reporting on Apple's unannounced product plans, so this latest report should be treated with caution. That said, additional claims made in the article potentially clarify mixed messages regarding production timelines for this year's iPhone line-up:

Apple's in-house developed fingerprint ID solution will be fabricated at TSMC's 12-inch line using 65nm process technology, said the sources, adding that production for the new OLED iPhone is unlikely to start until September due to the redesigned fingerprint ID solution.
Information gathered previously by other sources from the supply chain suggested that Apple plans to ramp up iPhone 8 production in June, because that would allow Apple to work out any manufacturing issues in the design and lead to better supply in preparation for a September launch.
However, according to DigiTimes' sources, Apple will enter volume production in July only for "two other new iPhones, which will retain LCD for their displays" – suggesting reports of an early summer ramp-up relate exclusively to the two "S" cycle iPhones that Apple is also rumored to be launching this year. What that could mean for the fate of the "iPhone 8" remains unclear, but not starting production until September would leave supplies limited for a fall launch.
Finally, the report goes on to claim that the tenth-anniversary edition iPhone will use "biometric authentication systems such as ultrasound", adding to the possible mix of facial recognition and iris scanning technologies also rumored to be in the works. Apart from the edge-to-edge display supplied by Samsung, other features more widely expected for the "iPhone 8" include some form of wireless charging and a glass body.