Apple has placed an order to Samsung Display for 60 million OLED panels for this year's iPhone 8, in addition to the 100 million units reportedly ordered by Apple last April. If the numbers are accurate, today's news confirms the display maker as Apple's main source of OLED screens for the next-generation iPhone (via The Korea Herald).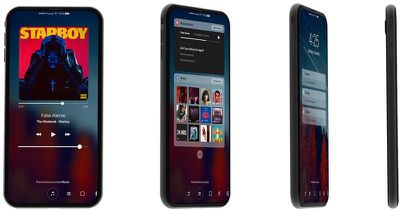 According to those familiar with the display market, Samsung will officially supply around 80 percent of the display panels in the iPhone 8. The company still didn't confirm the Apple-related OLED news, with a Samsung spokesperson saying "we can't officially comment on anything related to the order."
"Samsung takes pride in small OLED panels," said an industrial source familiar with the matter. "While LG is enhancing its OLED business for TVs, Samsung is likely to focus on mobile OLED panels this year, helped by the Apple orders."
The iPhone 8 is expected to include an OLED screen as a way for Apple to make the device thinner and include an edge-to-edge design with various features -- like Touch ID -- integrated directly into the screen. Apple is believed to launch three total new iPhones this year, two of which will be basic updates to the iPhone 7, referred to as the "iPhone 7s" and "iPhone 7s Plus," while the third "iPhone 8" will include the OLED display and more drastic design changes.