10 Years Ago Today: Steve Jobs Introduces the iPhone
Today marks the tenth anniversary of the day Steve Jobs introduced the original iPhone at Macworld in San Francisco. In what has become one of the most iconic moments in Apple's storied history, Jobs teased the device as if it were three separate products: a widescreen iPod with touch controls, a revolutionary mobile phone, and a breakthrough internet communications device.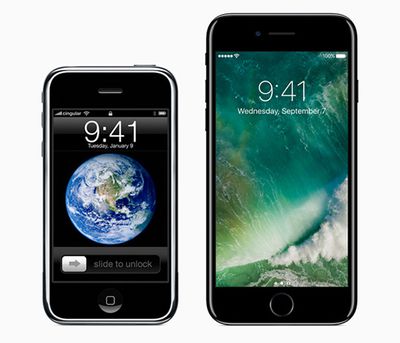 Apple began selling the iPhone six months later, and nearly a decade later, the company has now sold well over 1 billion of them to customers around the world. iPhone sales continued to rise on an annual basis until 2016, when the smartphone experienced its first-ever year-over-year sales decline amid a down year for Apple. Nevertheless, the iPhone remains Apple's most successful product ever, accounting for 60% of the company's overall revenue last quarter.
"iPhone is an essential part of our customers' lives, and today more than ever it is redefining the way we communicate, entertain, work and live," said Tim Cook, Apple's CEO. "iPhone set the standard for mobile computing in its first decade and we are just getting started. The best is yet to come."
Apple upended the mobile phone industry that was then dominated by earlier entrants such as Nokia and BlackBerry, two companies that are effectively out of the market today. Jobs poked fun at "smartphones" of the era, quipping they were "not so smart" and "not so easy to use," while criticizing outdated hardware features such as physical keyboards and styli. In turn, he introduced revolutionary new features such as Multi-Touch and scrolling to big rounds of applause.
Since then, Apple has improved the iPhone each year by adding several new features:
• 2008: App Store and 3G network support
• 2009: Video recording and Personal Hotspot
• 2010: Retina display
• 2011: Siri and iCloud
• 2012: Taller 4-inch screen, Lightning connector, and LTE
• 2013: Touch ID
• 2014: Larger 4.7-inch and 5.5-inch screens
• 2015: 3D Touch, Live Photos, and 4K video recording
• 2016: Waterproofing and dual-lens camera on iPhone 7 Plus
"It is amazing that from the very first iPhone through to today's newest iPhone 7 Plus, it has remained the gold standard by which all other smartphones are judged. For many of us, iPhone has become the most essential device in our lives and we love it," said Philip Schiller, Apple's senior vice president of marketing.
2017 is expected to be a big year for the iPhone, with rumors suggesting at least one new model will feature glass casing with a curved OLED display. The device may sport a nearly bezel-less edge-to-edge design with no physical Home button, but rather Touch ID embedded directly into the display as both patented by Apple and technologically possible. Other rumored features include wireless charging, facial or iris recognition, and a vertical dual-lens camera capable of 3D photography effects.