Apple Remains World's Most Valuable Brand Despite First-Ever Drop in iPhone Sales
Apple remains the world's most valuable brand this year, topping Interbrand's annual rankings for the fourth consecutive year.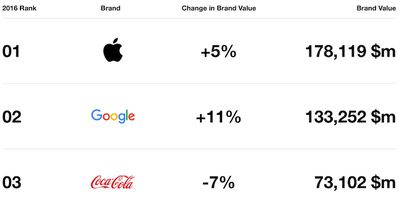 Apple's valuation rose 5% to $178.1 billion, ahead of tech rivals like Google, Microsoft, and Samsung, despite iPhone sales declining for the first time this year in line with the company's first revenue decline since 2003. Apple's brand value has steadily risen since 2002, when it was worth $5.2 billion, according to the study.
Apple shows how ecosystems drive value. Analysts have often pointed out that "Apple has superior products." While true, this opinion undersells the brilliance of Apple's functionally integrated model. Its software, hardware, and touchpoints are connected not just by beautiful design aesthetics, but by a level of interoperability that justifies the Apple premium and discourages defections to another platform. And the more data you share, the more personal it becomes—adding new devices is painless and the thought of switching increasingly unpromising. Apple is the Alpha of Cohesiveness in full effect.
However, perhaps more reflective of its recent declines, Apple did not make Interbrand's list of the top growing brands in 2016:


Coca-Cola, Toyota, Mercedes-Benz, and GE were the only companies outside the technology industry to make the top ten, which also included IBM and Amazon. Coca-Cola's brand value dropped 7% to $73.1 billion, continuing its decline since Apple overtook it for the top spot in 2013, according to Interbrand.
Interbrand is one of several brand rankings released each year, with others including Forbes and BrandZ. Apple has consistently performed well in these studies over the past decade as its revenue has ballooned on the strength of iPhone sales. Apple remains the world's most valuable company with a $611 billion market cap.