Synaptics Debuts New Fingerprint Sensors Capable of Scanning Through Display Glass
Amid rumors suggesting Apple plans to debut a 2017 iPhone with an edge-to-edge display with built-in Touch ID, Synaptics has announced its own under-glass fingerprint detection solution, debuting a new line of Natural ID FS9100 optical fingerprint sensors.
The FS9100 sensors are capable of scanning a fingerprint through 1mm of full cover glass, allowing for button-free display designs that are still able to take advantage of fingerprint recognition functionality.
According to Synaptics, the sensors have been specifically designed for placement under cover glass, including 2.5D glass, located in the front, bottom bezel of smartphones and tablets.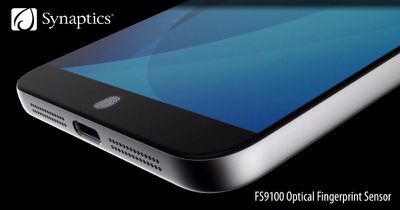 The FS9100 sensors eliminate the need for cutouts on the display of a device, and because they're under glass, they're scratchproof, waterproof, and respond well to wet fingers. Wet finger performance is something that causes most fingerprint sensors, including Apple's, to fail.
Synaptics says its sensors are also designed to be thin and consume a minimal amount of power, while also using AI to distinguish between fake and actual fingers.
"Synaptics' FS9100 family of fingerprint sensors represent a new breed of optical fingerprint sensor technology that is designed to meet the needs of mobile devices, including the ability to image through thick 2.5D glass. In addition to opening the door to new industrial design options, it enables OEMs to provide highly durable, button-free cover glass and more easily provide water resistant products while eliminating low yield glass processing." - Synaptics VP of marketing Anthony Gioeli
Apple likely has its own proprietary solution in the works for the display of the 2017 iPhone 8 because it has been in development for some time and is said to have in-house engineers working on the product, but Synaptics is a known Apple supplier and provided Apple with LCD display drivers in 2015 following its acquisition of Renesas SP Drivers, a chip company Synaptics purchased in 2014.
If the rumors are true, Apple's iPhone 8 will include a Touch ID fingerprint sensor, a camera, and other components that are located behind the display of the device, entirely eliminating the existing home button and allowing for an iPhone that looks like a single piece of glass.
Other rumors for the iPhone 8 suggest it will include a glass body, an OLED display, a faster A11 processor, and wireless charging functionality.
Synaptics' optical fingerprint sensors are scheduled to begin sampling during the first quarter of 2017, with production to begin in the second quarter of the year.