New CarPlay Vehicles From Audi, Honda, GM, and More Debut at Detroit Auto Show
Ahead of the annual North American International Auto Show in Detroit, which opens to the public on Saturday, a number of automakers have debuted new CarPlay-supported vehicles, including models with first-time compatibility from Audi, Honda, and General Motors brands Chevrolet and GMC.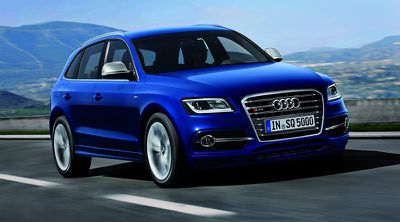 Audi SQ5
Audi today announced the
2018 SQ5 crossover
supports both CarPlay and Android Auto, a first for the SQ5, while the
Audi A5 and S5 Cabriolet
with CarPlay support are also making their North American debuts at the show. The latter two models were
first announced
alongside the Los Angeles Auto Show in November.
Volkswagen confirmed to us that all 2018 Atlas models will feature CarPlay and Android Auto for the first time through VW App-Connect. The all-new 2018 Tiguan debuting at the show will likewise be compatible with CarPlay and Android Auto via VW App-Connect, in line with 2016 and 2017 models of the vehicle.
Other first-time CarPlay vehicles debuting in Detroit this week include the 2018 Chevrolet Traverse, 2018 Honda Odyssey, and 2018 GMC Terrain Denali. The new 2018 Ford F-150 and 2018 Volvo V90 both support CarPlay as well, but previous model years of these vehicles were compatible as well.
The new 5 Series by BMW, the only automaker to offer wireless CarPlay in new vehicles, will be on display. Last week, Alpine announced the first aftermarket CarPlay receiver, model number iLX-107, that will be available in February for a suggested price of $900. It features a 7-inch capacitive touchscreen.
While the 2017 Maxima supports CarPlay, Nissan confirmed to us that the 2017 Rogue Sport is not compatible with Apple's software at this time. The 2018 Camry and 2018 Lexus LS debuting at the show are also incompatible, as Toyota and its luxury brand Lexus have chosen competing platforms over CarPlay.
CarPlay is available in over 200 vehicle models worldwide, providing hands-free or eyes-free access to common iPhone apps such as Maps, Messages, Music, Phone, and Podcasts, and select third-party apps such as Spotify. Apple maintains a CarPlay vehicles list on its website, although it is not always instantly up to date.