Alfa Romeo, Audi, Genesis, Jeep, and Kia Debut New CarPlay Vehicles at LA Auto Show
A number of new CarPlay-enabled vehicles are making their North American debuts ahead of the 2016 Los Angeles Auto Show this week, including models from Audi, Kia, and Hyundai's luxury brand Genesis.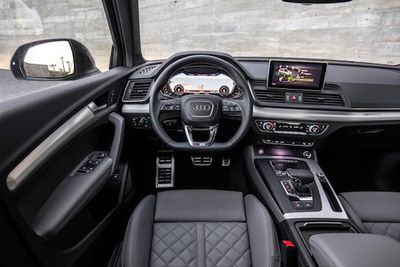 Interior of all-new 2018 Audi Q5 (European model shown)
Audi introduced a trio of CarPlay vehicles, including the all-new
2018 A5 and S5
cars and
Q5 SUV
. Audi's standard smartphone interface provides CarPlay and Android Auto integration via USB connection. The vehicles will arrive at U.S. dealerships in spring 2017. Pricing has yet to be announced.
Kia's latest CarPlay vehicle is the 2017 Soul Exclaim, its all-new five-door crossover with a 201-horsepower turbocharged engine. CarPlay and Android Auto come standard with the vehicle's UVO3 infotainment system. The non-turbo 2017 Kia Soul also features CarPlay support. Pricing and availability was not disclosed.
Genesis, which Hyundai spun into a standalone luxury car brand in 2015, followed suit with the introduction of its all-new 2018 Genesis G80 3.3T Sport trim with CarPlay and Android Auto integration via USB connection. The luxury sedan, available spring 2017, is equipped with a 9.2-inch touchscreen navigation system.
This article will be updated to reflect other new CarPlay vehicles as they are announced at the auto show over the next few days.
Update: The 2017 Jeep Compass and 2018 Alfa Romeo Stelvio also debuted with CarPlay support.