Samsung's Galaxy S8 to Beat Next iPhone to Bezel-Free Display and Virtual Home Button
Samsung will beat Apple to the punch in next year's smartphone wars by including features in its Galaxy S8 handset that have long been rumored for the 2017 "iPhone 8", such as a bezel-free wraparound OLED screen with a virtual home button embedded in the display.
Bloomberg on Thursday referred in its favored manner to "people with direct knowledge of the matter" who said that Samsung is targeting a March release for the redesigned S8, but that launch could be delayed by about a month as the company adopts tougher testing procedures in the wake of the Note 7 debacle. Apple's smartphone launch cycle usually runs on a yearly September release.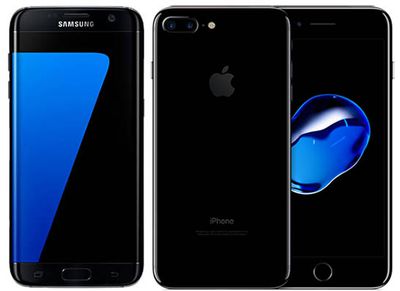 Samsung is understandably wary of the dangers of rushing its smartphone development after quality control reportedly suffered in the company's race to release the feature-rich, but ultimately fire-prone, Note 7.

"Since the phones have a record of burning up, it needs time for these phones to be verified as safe. How safe the phones turn out to be is more important than any hardware innovation," said Greg Roh, an analyst at HMC Investment Securities Co. "It will take about a month or two for people to actually start opening their pockets," he said.
The bezel-less devices will come in sizes similar to Samsung's 5.1-inch and 5.5-inch S7 Edge models. Samsung is also said to be introducing a "significantly differentiated" voice-activated personal AI assistant in the handsets that will be able to send text messages, make phone calls and manage calendar schedules. The AI technology will come courtesy of Viv Labs, which was founded by the developers of Apple's Siri and acquired by Samsung in October. Samsung is considering scrapping dual-cameras on the S8 due to high manufacturing costs, Bloomberg sources said. According to a separate report, the models will also drop the headphone jack.
Chinese phone maker Xiaomi made a splash back in October by debuting an almost bezel-less display with the Mi Mix "concept phone", boasting a screen that covers 91 percent of the front of the handset. While Xiaomi's limited-availability phone was more a proof of concept than a device ready for the mass market, both Samsung and Apple will be relying on the mainstream appeal of similarly standout features to boost unit sales in a stagnant market short on innovation.
In the near term, Samsung is desperate to bounce back from the impact of this year's Note 7 recall and discontinuation, which could end up costing the company more than $6 billion. The Korean-based firm reported a 17 percent drop in net income in the three months ending September, and has advised investors to expect a multibillion dollar slump in earnings in the December and March quarters as its market share struggles to recover.
As well as a bezel-free OLED display and virtual home button, Apple is said to be readying an all-glass casing and wireless charging for its 10th anniversary iPhone, with the possibility of a new 5-inch premium model and two lower tier aluminum models also in the offing.