Samsung's Share of Smartphone Market Drops to Lowest Level in Nearly Two Years
The latest data from market research firm IDC shows Samsung's share of the worldwide smartphone market dropped to 20% in the third quarter -- its lowest market share since recording 19.9% in the fourth quarter of 2014. IDC estimates Samsung shipped 72.5 million smartphones in the quarter, down 13.5% compared to the estimated 83.8 million smartphones it shipped in the year-ago period.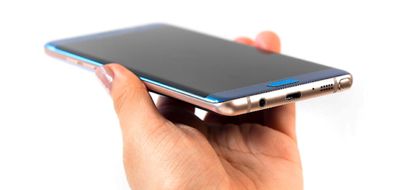 The decline can be at least partially attributed to Samsung's disastrous Galaxy Note7 recall in early September, although the impact of that move on the third quarter was limited to only a few weeks. Samsung's market share and financial results will likely suffer more greatly in the fourth quarter as the recall and subsequent discontinuation of the Galaxy Note7 weigh on the entire three-month period.


Apple finished runner-up to Samsung as usual with 45.5 million iPhones sold, down 5.3% versus the 48 million iPhones it sold in the same quarter last year. Apple's worldwide market share was 12.5%, down slightly from 13.4% in the year-ago quarter. Samsung's Galaxy Note7 recall could further boost sales of the already-popular iPhone 7 and iPhone 7 Plus heading into the holiday shopping season.
Higher than expected iPhone 7 Plus demand outstripped supply, which should be alleviated through the fourth quarter, helped by new features such as water resistance, faster processing, improved optics, and larger storage capacities. A new "jet black" color option has also proven popular with many carriers and retail partners are still showing the device on back order. IDC believes that the iPhone could witness greater success come next quarter as it stands to likely benefit from the Note 7 recall that took place earlier this month.
Chinese smartphone manufacturers Huawei, OPPO, and Vivo rounded out the top five vendors in the third quarter with 9.3%, 7%, and 5.8% market share respectively. Huawei in particular came within striking distance of Apple with an estimated 33.6 million Android-based handsets shipped in the quarter, including the flagship Huawei P9, representing 23% year-over-year growth.
The possibility of Chinese brands ever surpassing Apple or Samsung in smartphone shipments will greatly depend on their ability to enter the U.S. and European markets, where their presence is currently limited. All smartphone makers also have to deal with an increasingly saturated market that saw only 1% growth in the third quarter. Overall shipments rose totaled an estimated 362.9 million units.