Samsung's Next-Generation Galaxy S8 Won't Include a Headphone Jack
Like the iPhone 7 and the iPhone 7 Plus, Samsung's next-generation Galaxy S8 will not feature a 3.5mm headphone jack, reports SamMobile. Samsung will instead use a single USB-C port to deliver both power and audio capabilities, using the space once taken by the jack for other components.
Samsung often takes design inspiration from Apple, something that's caused legal problems that are still ongoing today, but the decision to remove the 3.5mm headphone jack is curious given Apple's move was so controversial.
According to Apple, removing the headphone jack in the iPhone 7 and the iPhone 7 Plus took a lot of "courage." Apple executives have claimed that the 3.5mm jack is outdated technology that was taking up essential space and holding Apple back from implementing features like a new Taptic Engine and waterproofing.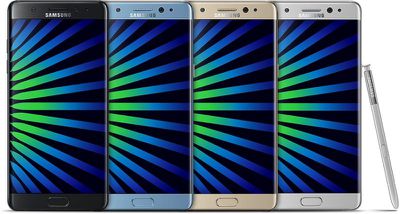 Samsung's Galaxy Note 7


Many iPhone users have not been happy with the removal of the headphone jack, a fact that Samsung took advantage of when announcing the now-defunct Galaxy Note 7. "Want to know what else it comes with?" Samsung VP Justin Denison asked on stage, mocking the iPhone. "An audio jack, I'm just saying."
With the removal of the headphone jack in the Galaxy S8, Samsung users will face the same drawbacks iPhone users have had to deal with since September. There will be no way to charge and listen to music at the same time without a special adapter, and existing headphones will also be useless without a 3.5mm to USB-C adapter.
Samsung plans to debut the new Galaxy S8 at the 2017 Mobile World Congress in Barcelona, which takes place in February. In addition to overcoming any negative reaction to the removal of the 3.5mm audio jack, Samsung will also need to quell customer fears over the device's build and its battery.
The Galaxy Note 7 suffered from an exploding battery issue that injured dozens of people and eventually led Samsung to discontinue the device and pull it from store shelves.