Apple to Sell Fewer Apple Watch Models in 2016 Despite Launch of Series 2
Apple may sell fewer Apple Watch models in 2016 than it did in 2015, according to research conducted by KGI Securities analyst Ming-Chi Kuo and shared by Business Insider. According to Kuo, the new Series 1 and Series 2 Apple Watch models suffer from a lack of "killer" applications, inadequate battery life, a heavy reliance on the iPhone and a multi-touch UI that he does not feel will be the ideal solution for wearable devices.
The Apple Watch, says Kuo, has failed to impact sales of the Fitbit, and he does not believe the more affordable Series 1 models will lead to a higher number of sales.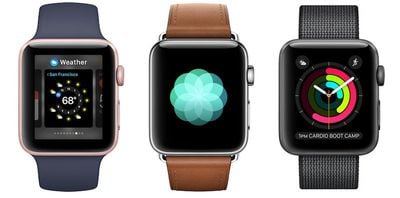 As a result of these perceived shortcomings, Kuo has cut his estimates for 2016 Apple Watch shipments by 15 to 25 percent, projecting sales of 8.5 to 9 million units during fiscal 2016. Kuo made similar predictions in April of 2016.
"Based on these considerations, we revise down our 2016F shipments projection for the entire Apple Watch line from 10.0-10.5mn units to 8.5-9.0mn units (vs. 10.4mn units in 2015)," writes Kuo. "We now predict 2016F Apple Watch sales will decline from 2015 (with shorter selling time of eight months)."
Apple does not break down Apple Watch sales numbers and has never revealed how many of the wearable devices have sold since April of 2015, making it difficult to pin down just how well it's doing with customers. IDC estimates shared over the summer suggest Apple sold 1.6 million units during Q2 2016, down from 3.6 million estimated units in the second quarter of 2015, aligning with Kuo's prediction.
It's important to note that estimates for Apple Watch sales sometimes vary wildly, however. For example, during the March quarter, Swiss bank UBS estimated sales of 1.6 million units, while Strategy Analytics estimated sales of 2.2 million.
The new Apple Watch Series 2 looks identical to the Series 1 Apple Watch models but includes better waterproofing to make it suitable for use when swimming, GPS, a faster dual-core processor, and a brighter display. Series 1 models also feature a faster processor, but are otherwise unchanged from the original Apple Watch.
More substantial changes are expected for the 2017 Apple Watch, including an exterior redesign.