Apple Watch Remains Nearly Three Times as Popular as Samsung Smartwatches
The latest data from market research firm IDC reveals that Apple Watch sales totaled an estimated 1.6 million units in the second quarter, for an industry leading 47 percent market share, compared to Samsung's estimated 600,000 smartwatch sales and 16 percent market share during the March-June period.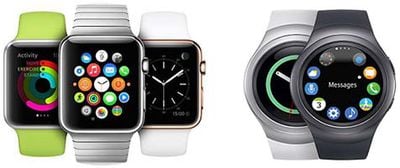 The numbers suggest that the Apple Watch remains nearly three times as popular as Samsung Gear smartwatches, nearly fifteen months after launching in the U.S. and eight other countries. Nevertheless, Samsung did close the gap with strong 51 percent year-over-year growth and a 9 point rise in market share.


Apple, meanwhile, experienced a 55 percent year-over-year decline, but the year-ago quarter encompassed the Apple Watch's launch and is thereby an unfair comparison. Apple Watch market share has dropped substantially, however, from an estimated peak of 72 to 75 percent following its launch quarter.
Despite a down quarter, Apple remains far and away the market leader in smartwatches. Apple faces the same challenges as other OEMs, but the pure exposure of the device and brand through tactical marketing gives it a leg up on the competition. Watch 2.0, along with updates to watchOS, could help drive existing user refresh and more importantly, a new wave of first-time buyers.
The overall smartwatch market experienced its first-ever decline as shipments fell 32 percent in the second quarter, totaling an estimated 3.5 million units compared to an estimated 5.1 million units in the year-ago quarter. Lenovo, LG, and Garmin rounded off the top five smartwatch vendors in the second quarter, but the trio combined to sell only 700,000 units. All other vendors sold a combined 600,000 units.
KGI Securities analyst Ming-Chi Kuo said the so-called Apple Watch 2 will debut in the third quarter, setting the stage for a possible launch alongside the next iPhone in September. The next-generation Apple Watch could feature a FaceTime video camera, expanded Wi-Fi capabilities, cellular connectivity, and other internal upgrades, while new models and bands are always possibilities.