Spotify Reaches Over 40 Million Paying Subscribers, Continues to Outpace Apple Music
Spotify has announced that it now has over 40 million paying subscribers as of this month, meaning that it has added some 10 million subscribers since March. Spotify remains the most popular streaming music service worldwide, and its new subscriber growth continues to outpace its biggest rival, Apple Music.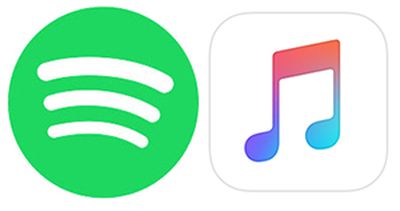 Spotify founder and CEO Daniel Ek hinted about the milestone in a tweet earlier today:

Apple Music has been growing at a pace of about 2 million new subscribers every two months:
11 million in February
,
13 million in April
,
15 million in June
, and
17 million in early September
. Spotify's figures, meanwhile, show it grew at a pace of over 3 million new subscribers every two months between March and September.
Earlier this year, Spotify vice president Jonathan Forster said Apple Music is "raising the profile of streaming," which has helped, not hurt, its business.
"It's great that Apple is in the game. They are definitely raising the profile of streaming. It is hard to build an industry on your own," said Forster. "Since Apple Music started we've been growing quicker and adding more users than before."
Spotify may benefit from Apple, but its relationship with the iPhone maker is not perfect. The two companies were recently embroiled in a major dispute after Apple rejected a version of the Spotify app that replaced the option to purchase a subscription via in-app purchase with an external sign-up function.
At the time, Spotify accused Apple of using the App Store approval process as a "weapon to harm competitors," to which Apple responded that Spotify is "publicly resorting to rumors and half-truths" about the App Store and "asking for exemptions to the rules we apply to all developers."
Spotify has remained competitive by matching Apple Music's $14.99 family plan in June and introducing new features such as Release Radar.