Spotify has upgraded its family plan to directly match Apple Music's offering, with up to six Premium accounts per family now available for $14.99 a month (via The Verge).
Spotify says users under the family plan will receive their own separate premium accounts and have full access to Spotify's library of songs and videos. Existing subscribers meanwhile will automatically be upgraded to the new plan and should receive a lower bill in the next month. The plan rolls out globally today, except for users of the music streaming service residing in Canada.
The move follows in the footsteps of Google Play, which matched Apple Music's family plan in December.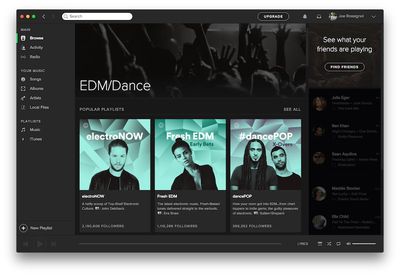 Earlier this month Spotify claimed it had experienced a faster pace of growth since the launch of Apple Music, reaching 30 million paying subscribers compared to the 20 million it had when the rival service launched last June. In April, Apple claimed 13 million subscribers, up from 11 million users in February.
At the beginning of May, Apple introduced a 50% discount for all student subscribers to Apple Music, offering those eligible a $4.99 per month deal. Apple Music is widely expected to see a design overhaul in time for WWDC this year, due to be held June 13–17 in California.