Next Year's iPhone Said to Include Iris Scanner to Authenticate With Your Eyes
Apple is planning to include iris scanning capabilities on the tenth-anniversary iPhone launching in 2017, according to a Chinese-language MoneyDJ report translated by DigiTimes. The latter website, citing supply chain sources, previously said the feature would not debut on iPhones until at least 2018.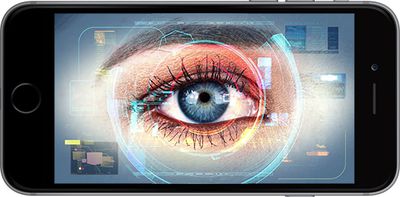 An iris scanner could complement or replace Touch ID as a way to verify a user's identity, enabling iPhone users to unlock their smartphone, make payments, and more by authenticating with their eyes. A person's iris, or the circular colored muscle of the eye, contains a complex and random pattern that is unique to each individual.
An iris scanner on a smartphone would not be unprecedented, as Samsung included one on the new Galaxy Note7 released earlier this month.
Taiwan-based supplier Xintec, an affiliate of Apple manufacturer TSMC, will begin mass production of iris-recognition chips in 2017, likely in an effort to secure orders from Apple and other smartphone vendors next year:
Xintec is expected to enter mass production for iris-recognition chips in 2017, which will boost the backend house's revenues for the year, the report cited market watchers as saying. New orders for iris-recognition sensors include those for the chips that will be embedded in the 2017 series of iPhone, the watchers were also quoted in the report.
Xintec said the company does not comment on rumors or speculation about specific products or customer orders.
Based on rumors, Apple's tenth-anniversary iPhone is shaping up to be a more significant upgrade compared to the iPhone 7 series expected at Apple's September 7 event. Other rumors surrounding the so-called iPhone 8 include a 5.8-inch curved OLED screen, glass casing, an embedded or completely removed home button, wireless charging, an enhanced Taptic Engine, and more.